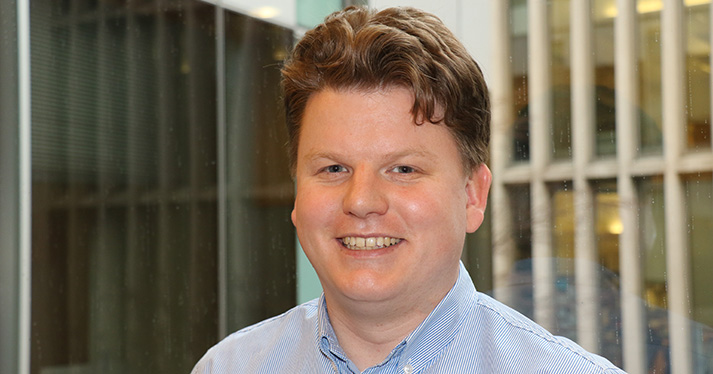 10 Mar

Meet Bas de Veer, ITHS REDCap Administrator and Expert

Bas de Veer is the resident REDCap expert at the Institute of Translational Health Sciences. We sat down with de Veer, who hails from the Netherlands, to learn more about the free, web-based data capture tool and how he came to be known as the "REDCap guy."

Tell us about your role at ITHS.
My official title is Senior Computer Specialist. However, I've become known as the REDCap Lead or REDCap Guy or That Guy That Runs REDCap. And I kind of just ran with that.

Basically, I am involved with all things REDCap. I develop and offer trainings, upgrade and maintain REDCap, assist with study design, and help people with issues regarding REDCap. Anything related to REDCap, I'm your guy.

On what kinds of projects do you offer assistance?
Everything from "Can REDCap do this?" to "This is my project. How do I do that in REDCap?" to "What's the best way of doing that?" That's the challenge for me—figuring out what researchers need.

Sometimes I am hired to do the whole project. Most of the time, I assist with one-off questions and issues.

You studied Biomedical Informatics at the University of Amsterdam. What drew you to that field?
I looked into becoming a doctor. But after talking to people in the field, I decided it wasn't for me. Informatics was something I had an affinity for, but I didn't want to spend 40 hours a week behind a screen, coding. Plus, I really liked talking to doctors and people in the medical space. Biomedical informatics offered a combination of medicine and informatics.

What makes REDCap different than other data capture tools? Could a spreadsheet do the same thing?
REDCap was actually born out of the need to have a better alternative for data capture than spreadsheets. The downside of spreadsheets is that they are on your own personal computer. If that computer dies or someone steals it, you lose all your data and work. The fact that REDCap lives in the cloud helps with that. Your data is harder to lose. REDCap is also more user-friendly than traditional database tools. You don't need to know programming or all the ins-and-outs of REDCap to use it. The creators at Vanderbilt wanted to make something that is user-friendly and doesn't require as much effort to learn and use.

What are some unique ways people have used REDCap?
About a year ago, a group from Seattle Children's was studying traumatic brain injury in young girls who were playing soccer. The researchers gave the players tests and asked questions on the sidelines. They also did follow-ups via email afterward. They weren't sure how to implement REDCap with that. My questions for them were: What do you want to capture? At which time points? And, who is your target demographic? From there, we figured out the best way to get them the best data for their needs.

Also, REDCap recently released their new mobile app that allows for offline data capture. I've been pushing that quite aggressively because I have seen a real need for it in the research community.

Anything else new happening with REDCap?
Over the last year, we have had a lot of expansion on the REDCap survey capabilities front. This next year, the developers at Vanderbilt are going to focus on making the Application Program Interface (API) more robust, so other computer programs can more easily talk to REDCap without human intervention. REDCap is evolving at a rapid pace. They release a new version every two to three weeks. It's a lot of incremental stuff. There are no earth-shattering things in the immediate future, but a bunch of smaller things that will make REDCap better overall.

What are your plans for the ITHS REDCap installation over the next year?
ITHS gets an average of a hundred new REDCap users each month, so I'd like to redo the training to reach more people. Because of all of this new functionality coming out constantly, we need to be more agile with how we do the training. Also, these innovations allow me to come up with cool new uses for REDCap.

What kinds of training do you offer?
Every month, I offer a beginner-level and an advanced-level class at the UW Medicine South Lake Union campus. Class times and dates are listed on the event calendar on ITHS.org. Training videos and REDCap tips are also available on the ITHS website.

How can researchers get in touch if they have a question about REDCap?
The best way is to complete the "Contact Us" form on the ITHS REDCap page.