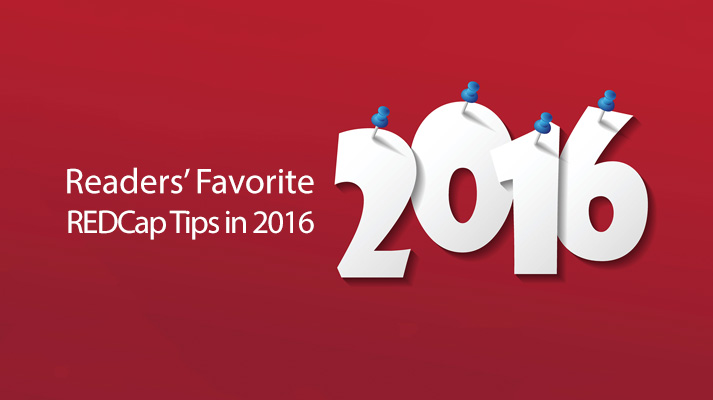 15 Dec

Readers' Favorite REDCap Tips in 2016

Every month, we publish a REDCap tip, shortcut, or best practice to help you get the most out of the installation. With 2016 coming to an end, we're taking a look back to see what tips readers found most valuable this year.

Readers' favorite top five tips were:

Do you ever feel that the normal REDCap public survey URLs are too unwieldy? This tip describes how to create custom survey URLs that are easier to remember.

If you run a continuous survey, you may want to run a weekly or monthly report to get an overview of what was submitted. Follow these steps to set up reporting in your REDCap project.

Having a progress bar can be a nice visual aid for survey respondents and may help reduce survey dropout. REDCap doesn't have the capability to create a progress bar out of the box, but you can add one with some clever use of HTML. Here's how to do it.

Have you ever wanted to customize your surveys to reflect the branding of your organization? If so, check out this tip.

You always want the highest response rate possible when conducting a REDCap survey. But sometimes getting recipients to even open your email can be a challenge. Readers' favorite tip in 2015 outlined four fundamentals to help your survey rise above the clutter and increase response rates. Looking for more tips around survey invitations and design? Download our 24-page PDF guide.