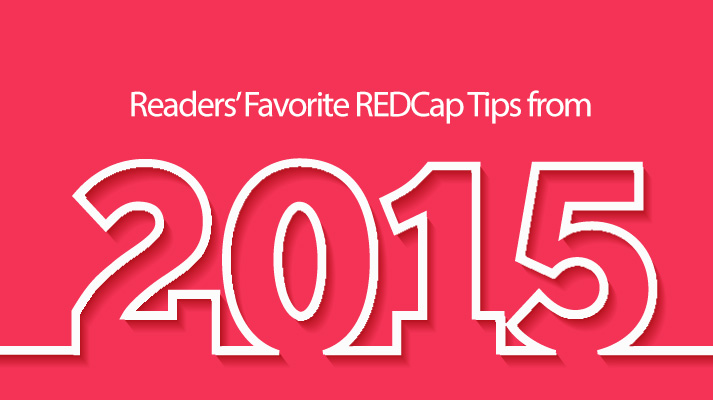 09 Dec

REDCap Tip of the Month: Readers' Favorite Tips in 2015

Every month, we publish a REDCap tip, shortcut, or best practice to help you get the most out of the installation. With 2015 coming to an end, we are taking a look back to see what tips readers found most valuable this year.

The top three tips of the year, as determined by the total number of readers, were:

REDCap provides automatic question numbering for simple surveys. However, if your survey contains branching logic, REDCap turns the question numbering feature off to prevent random skipping of numbers. This tip describes two ways of adding custom numbering to your REDCap surveys. Read the Tip >

REDCap calculations can sometimes become out-of-date, especially when doing calculations with dates and/or times. This tip describes how to update all of your out-of-date calculations with one simple process. Read the Tip >

Most REDCap users do not conduct their own statistical analysis, instead asking a professional statistician to do it for them. Our most popular tip of 2015 describes how users can grant a statistician secure access to project data. Read the Tip >

Miss any of our other tips this year? Please visit our REDCap Tip of the Month archive to get caught up.