Population Health Resource Directory
Beth Mueller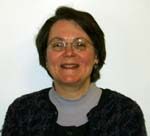 Most of my work has focused on use of population-based health data.
Home Campus, School, or College
School of Public Health
Population Health Focus Keywords
Health, Reproductive and Sexual Health
Field of Study
Demographics, Environmental Sciences, Epidemiology, Human Behavior, Law, Medicine, Public Health
Key Populations
Adolescent / Youth, Adult, Children, Infants, Immigrants, Vulnerable Populations
In what countries of the world does your research take place?
I generally use data from Washington State. Sometimes these are combined with data from other states and countries.