Population Health Resource Directory
Frederick Shic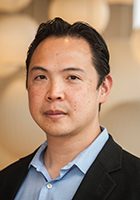 4909 25th Ave NE, Seattle, WA 98105, USA
4909 25th Avenue Northeast
Seattle
Washington
98105
US
I work at the intersection of autism research, technology development, and big-data approaches.
Our laboratory, the Seattle Children's Innovative Technologies Laboratory, focuses on a combination of biomarker development, assistive technologies, and novel technology-based therapeutics.
Methods of primary interest include eye tracking, functional near infrared spectroscopy (NIRS), mobile applications, and social robotics.
Projects of note include identification and refinement of prognostic markers associated with autism (eye tracking, NIRS, EEG), development of advanced multimedia screening technologies for developmental issues, and application of novel devices (augmented reality, virtual reality, social robotics) for understanding mechanism and behavioral change.
Home Campus, School, or College
School of Medicine
Population Health Focus Keywords
Economic Determinants, Race and Ethnicity, Social Equity and Social Determinants, Technology and Health, Health, Mental Health or Illness
Field of Study
Engineering, Health Measurement and Data, Health Science, Social Sciences, Technology
Key Populations
Adolescent / Youth, Children, Infants, Underrepresented Populations