Population Health Resource Directory
James Pfeiffer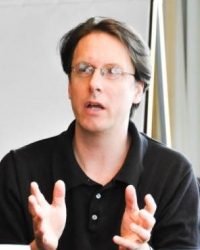 James Pfeiffer PhD, MPH is currently Professor in the Departments of Global Health and Anthropology at the University of Washington. Dr. Pfeiffer earned both his PhD in Anthropology and his MPH at UCLA. He has 25 years of research experience in medical anthropology and public health in Africa. Dr. Pfeiffer has worked and published extensively on reproductive and community health projects in Mozambique and has coordinated numerous program evaluations and research projects for Health Alliance International (HAI), a research and program "Center" in the Department of Global Health.
Dr. Pfeiffer is currently HAI Executive Director overseeing primary health care system strengthening projects in Côte d'Ivoire, Mozambique, and East Timor with an emphasis on antenatal care, maternal child health, HIV/AIDS, malaria, and tuberculosis. Dr. Pfeiffer has served as principal investigator on medical anthropology and public health research funded by the National Institutes of Health, the National Science Foundation, and the Wenner-Gren Foundation for Anthropological Research. In addition, Dr. Pfeiffer has also conducted research on community participation in Nicaragua and nutrition planning in Iran for UNICEF. Dr. Pfeiffer has technical expertise in ethnographic and qualitative research methods, epidemiology, mixed methods, implementation science, and program evaluation.
Home Campus, School, or College
College of Arts & Sciences , School of Public Health
Population Health Focus Keywords
Conflict / War, Economic Determinants, Impoverishment / Poverty, Social Equity and Social Determinants, Social Policy and Governance, Food Quality / Security, Health, Epidemics, Infectious Disease, Nutrition, Reproductive and Sexual Health
Field of Study
Community Health, Community Engagement and Participation, Epidemiology, Global Health, Health Care, Health Management, Health Measurement and Data, Health Science, Policy, Public Health, Social Sciences
Key Populations
Adolescent / Youth, Adult, Children, Infants, Refugees, Underrepresented Populations, Vulnerable Populations
In what countries of the world does your research take place?
Africa: Mozambique (Beira, Chimoio, Maputo), Ivory Coast (Bouake)