Population Health Resource Directory
Julia Yue Cui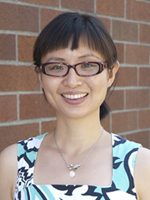 Julia received her B.S. Degree in Chukechen Honors College, Zhejiang University in Hangzhou, China, and received her Ph.D. Degree with honors in University of Kansas Medical Center. Julia currently is an Assistant Professor in Toxicology in the Department of Environmental and Occupational Health Sciences. She is a recipient of the Sheldon D. Murphy Endowed Chair, and a member of Center of Ecogenetics & Environmental Health.
Julia is trained as a toxicologist, specializing in using toxicogenomic and toxicoepigenomic approaches to determine the effects of environmental chemical exposure and reprogramming the gut microbiome on the transcriptional and epigenetic regulation of genes involved in drug metabolism and obesity during development.
Home Campus, School, or College
School of Public Health
Population Health Focus Keywords
Environmental Health, Health, Nutrition
Field of Study
Biological Sciences, Environmental Sciences, Medicine, Public Health
Key Populations
Adolescent / Youth, Children, Infants, Vulnerable Populations
In what countries of the world does your research take place?
Society of Toxicology
American Association for the Study of Liver Diseases
International Society for the Study of Xenobiotics
American Society for Pharmacology and Experimental Therapeutics