Population Health Resource Directory
Michelle Averill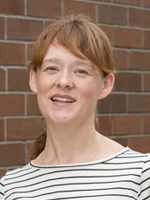 As a lecturer, I primarily teach and mentor students. In this capacity, I teach in the undergraduate Public Health Major the Science in Public Health Course as well as a Life Course Nutrition course for undergraduates. These courses link the pathophysiology of disease to factors that prevent or promote disease, with a particularly focus on chronic disease and nutrition.
Several research projects I am working on touch on population health. The first project looks at the relationship between sodium, potassium, and CVD in a multiethnic cohort. The second project that has just started will address the achievement gap in undergraduate education and determine the impact of SES, gender, and race on course performance. The broad purpose of this research will be to identify effective teaching methods to reduce the achievement gap in education.
Lastly, I worked with other UW Health Sciences Schools in interprofessional education (IPE) and helped develop the Population Health focused session as part of the four sessions IPE Foundations series for all health sciences students.
Home Campus, School, or College
School of Public Health
Population Health Focus Keywords
Social Equity and Social Determinants, Environmental Health, Climate Change, Food Quality / Security, Health, Nutrition
Field of Study
Biological Sciences, Clinical Practice, Environmental Sciences, Health Science, Human Behavior, Public Health
Key Populations
Adolescent / Youth, Adult, Children, Elderly, Infants, Underrepresented Populations
In what countries of the world does your research take place?