Population Health Resource Directory
Peter Rabinowitz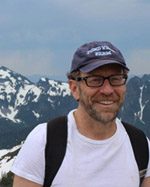 As a physician trained in primary care and occupational and environmental medicine, I study the way that individual cases of disease ("sentinel cases") can be indicators of hazards or exposures affecting the health of populations, be they workers or community dwellers. Such indicators allow for the detection and prevention of health problems .
In recent years, I have been working in the field of "One Health"; a concept exploring the linkages between human, animal, and environmental health. A key aspect of this work has been connecting the health of human populations with the health of animal populations sharing the same environments. As the environment changes, our growing human and animal populations are faced with ever-changing health challenges, and sometimes the animals, like the "canary in the coal mine" are the sentinels for health issues threatening us all. Therefore the One Health concept stresses transdisciplinary cooperation between human, animal, and environmental health professionals as well as others working to ensure healthy coexistence of species in a changing environment. I came to UW to start a Center for One Health Research where we are actively exploring these complex problems and their solutions.
Home Campus, School, or College
School of Medicine, School of Public Health
Population Health Focus Keywords
Environmental Health, Climate Change, Food Quality / Security, Epidemics, Non-Infectious Disease, Infectious Disease, One Health
Field of Study
Climate Sciences, Clinical Practice, Community Health, Environmental Sciences, Epidemiology, Global Health, Medicine, Public Health
Key Populations
Children, Elderly, Vulnerable Populations
In what countries of the world does your research take place?