Population Health Resource Directory
Sallie Thieme Sanford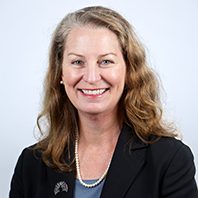 Sallie Thieme Sanford is an Associate Professor at the University of Washington School of Law, with an adjunct appointment in the School of Public Health. She received her B.A. with honors from Brown University and her J.D., Order of the Coif, from UCLA. Professor Sanford clerked for The Honorable Robert R. Beezer of the Ninth Circuit Court of Appeals and then served as an Assistant Attorney General representing the UW's medical centers and health sciences schools.
Professor Sanford's research and teaching focus on health care law, which encompasses legal, policy, and ethical issues that arise in medical care, public health, and global health contexts. Her current research centers on domestic health reform implementation, with particular attention to historically underserved populations. In addition, she has been involved in funded research into law and policy reforms in support of PEPFAR initiatives in the Global South.
Professor Sanford's recent articles include: Monitoring HIV and AIDS Related Policy Reforms: A Road Map to Strengthen Policy Monitoring and Implementation in PEPFAR Partner Countries, PLOS ONE 11 (2016) (co-authored), Mind the Gap: Basic Health along the ACA's Coverage Continuum, 17 MD. J. HEALTH CARE L. & POL'Y (2014); The Struggle to Bury Pre-Existing Condition Consideration, 7 ST. LOUIS J. HEALTH L. & POL'Y 405 (2014); and Emergency Response: A Systemic Approach to Diaper Rash, Chest Pain and Medicaid in the Emergency Department, 102 KY. L.J. 441 (2014). Several shorter articles on health law-related topics appear in the on-line journal JURIST.
Home Campus, School, or College
School of Law, School of Public Health
Population Health Focus Keywords
Economic Determinants, Race and Ethnicity, Social Equity and Social Determinants, Social Policy and Governance, Health, Mental Health or Illness
Field of Study
Global Health, Health Management, Law, Management and Business, Medicine
Key Populations
Underrepresented Populations, Vulnerable Populations