Population Health Resource Directory
Zhengui Xia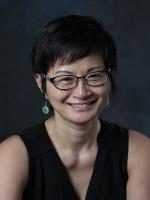 I am a Professor in the Toxicology Program and an Adjunct Professor in the department of Pharmacology. I am also a Faculty member of the two interdisciplinary graduate programs at U. of Washington- the Neurobiology and Behavior (N&B) Graduate Program and the Molecular and Cell Biology (MCB) Graduate Program.
Our current research interests are to: 1) elucidate mechanisms that regulate neurogenesis (the generation of functional neurons) both during brain development and in adult brain, and the physiological function of adult neurogenesis in olfaction and cognition; 2) investigate whether and how exposure to environmental neurotoxicants, such as heavy metals lead and cadmium, may perturb adult neurogenesis and impair olfaction and cognition; 3) test the hypothesis that environmental factors and gene-environment interactions (GXE) may increase Alzheimer's disease risk and accelerate cognitive decline; 4) investigate potential sex differences on disease susceptibility upon exposure to environmental neurotoxicants; 5) identify window of susceptibility of exposure to lead and cadmium on impairment in olfaction and cognition; 6) identify mechanisms and strategies to mitigate the adverse effect of lead and cadmium neurotoxicity on cognitive impairment. Our lab is a medium sized lab that consists of post-doctoral fellows and students who are bright, motivated, collegial, and friendly.
Home Campus, School, or College
School of Public Health
Population Health Focus Keywords
Built Environment Impacts, Non-Infectious Disease, Mental Health or Illness
Field of Study
Public Health
Key Populations
Adult, Elderly
In what countries of the world does your research take place?