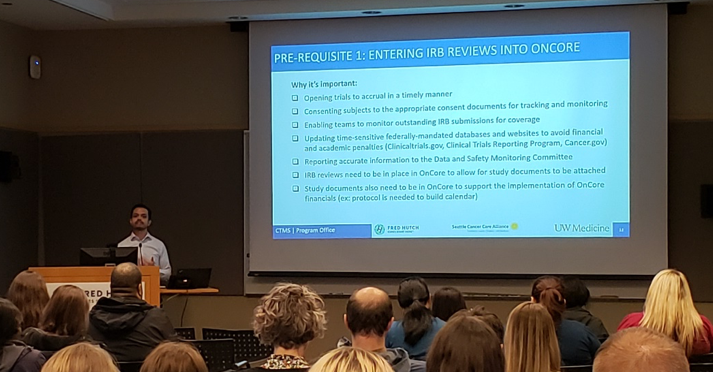 27 Mar

CTMS on the Road: Consortium Study Coordinators Presentation

Since OnCore went live last year, our CTMS Program Office has been engaging with a variety of end users, most recently presenting at the Consortium Study Coordinators (CSC) monthly meeting to over 100+ study staff across our institutions. Designed by the CSC Leadership Team, this monthly forum provides the CSC community with information on new developments within the Consortium.

Oscar Cano, OnCore Product Manager for the CTMS Program Office shared key messages such as:
CTMS Program & Operations Overview, including a draft roadmap for OnCore in coming years
Activities related to the transition of study-related documents from Clinical FYI into OnCore, including key pre-requisites for IRB review data entry that study teams need to complete to enable the transition
Helpful training resources
Q&A
The CTMS team is grateful for opportunities to engage with our end users. If you'd like for CTMS staff to attend your study team meeting to share an overview and answer questions, contact us at CTMS_Office@fredhutch.org.