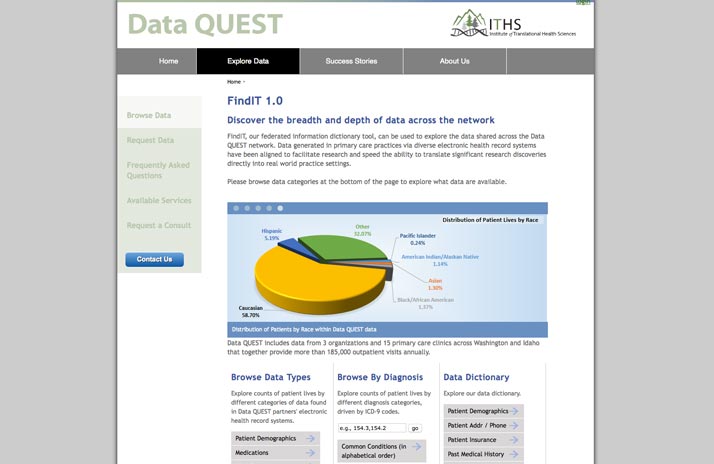 29 Jan

ITHS Launches Tool to Harness Primary Care Data for Research

The Institute of Translational Health Sciences announced today the launch of Data QUEST, an electronic health record data-sharing network designed to offer researchers access to research datasets. Data QUEST spans community-based primary care practices in the states of Washington and Idaho, which allows researchers to conduct research in more generalizable and distributed populations than is often possible with health data.

"Data generated in primary care settings hold enormous promise for research," said Dr. Laura-Mae Baldwin, ITHS Senior Faculty Director and Professor of Family Medicine at the University of Washington. "The challenge has been how best to create tools for researchers to explore and extract these data for research studies, which we believe has been successfully addressed with the launch of Data QUEST."

The Data QUEST infrastructure represents more than 125,000 patient lives across six federated clinical data repositories. Researchers can use FindIT, the Data QUEST dictionary and data profiling tool, to easily explore the types of data contained within the Data QUEST network. An ITHS team is then available to help assess the feasibility of using Data QUEST for various research ideas and to support researchers in obtaining specific datasets.

The Data QUEST repository is composed of data originating from electronic health record systems. The ITHS Data QUEST team can facilitate a request for identifiable data from researchers who have appropriate Institutional Review Board approvals and data use agreements with the clinical partners. Such a dataset can be used to identify individuals who might qualify as participants for randomized controlled trials.

"Data QUEST allows researchers the ability to work across a diverse range of clinics, providers, patients, health systems, and geography, all with a single process," shared Dr. Kari Stephens, ITHS Faculty, UW Assistant Professor of Psychiatry and Behavioral Sciences, and one of the leaders of the Data QUEST team. "Using FindIT and talking with our coordinating center team allows researchers to easily and efficiently sample and learn about the data during the creative research development process."

Please visit the Data QUEST website to learn more. ITHS is also underwriting the cost of data extraction as part of this launch. To be considered for this opportunity, please email a paragraph describing your research question, intended use of the data, and description of your professional role to Gina Keppel (gakeppel@uw.edu) by February 20, 2015.