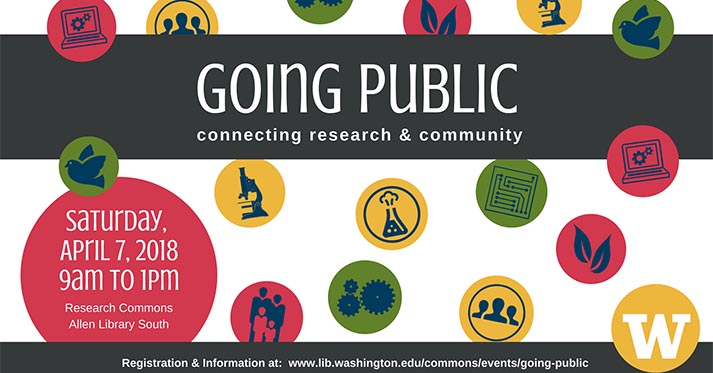 12 Mar

Going Public: Connecting Research & Community

Posted on March 12, 2018 @ 8:57am

in

When:

April 7, 2018 @ 9:00 am – 1:00 pm

2018-04-07T09:00:00-07:00

2018-04-07T13:00:00-07:00

Where:

Research Commons, Allen Library South ground floor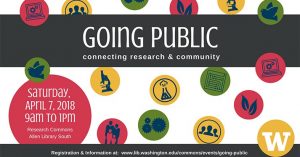 Are you interested in involving community in your research process but uncertain where to start? Do you already involve members of the public in your research process and would you like to connect with like-minded people around your experience?
This half day workshop will explore engaging community in the research process through public scholarship, citizen science, community-engaged research, and participatory research. This interdisciplinary event offers an opportunity to expand your skills through several workshop offerings, to hear from researchers and community participants on their experiences through our "Research & Community Connections" panel presentation, and to see the different shapes this research can take through our graduate student poster display.
Schedule and Program
9:00 a.m. – 9:30 a.m. Registration and Poster Viewing
9:30 a.m. – 10:25 a.m. Workshop 1
From Paper to Pixels: Making Digital Stories for the Public, Elliott Stevens and Perry Yee, Green A
Introduction to Human Subjects, Adrienne Meyer, Red C
Privilege, responsibility, scholarship: finding your public voice, Sarah Myhre, Presentation Place
10:30 a.m. – 11:30 a.m. Keynote Panel: Research & Community Connections, Presentation Place
Participatory Research

Bonnie Duran, Professor, UW School of Social Work
Billie Jo Kipp, President of the California Tribal College

Citizen Science, COASST

Julia Parrish, Associate Dean, UW College of the Environment
Eric Wagner, Citizen Scientist

Community Engaged Research, Data Science for the Social Good

Mark Hallenbeck, Director of the Washington State Transportation Center, Senior Data Science Fellow
Bernease Herman, Data Scientist, UW eScience Institute
Moderated by Jenny Muilenburg, UW Libraries
11:30 a.m. – 11:45 a.m. Coffee Break and Poster Viewing
11:45 a.m. – 12:40 p.m. Workshop 2
Why Public Research Matters: New Strategies for Making and Measuring Your Impact, Robin Chin Roemer, Presentation Place
Building Your Scholarly Identity with Social Media: An Introduction, Madison Sullivan, Green A
Say It with a Picture: Data Visualization for (Science) Communication, Robert Kosara, Senior Research Scientist, Tableau, Red C
Title TBD, Kathryn Pursch Cornforth, Associate Director, Carlson Leadership & Public Service Center, TBD
12:40 p.m. – 1:00 p.m. Reflection and Poster Viewing, Presentation Place
Register ›