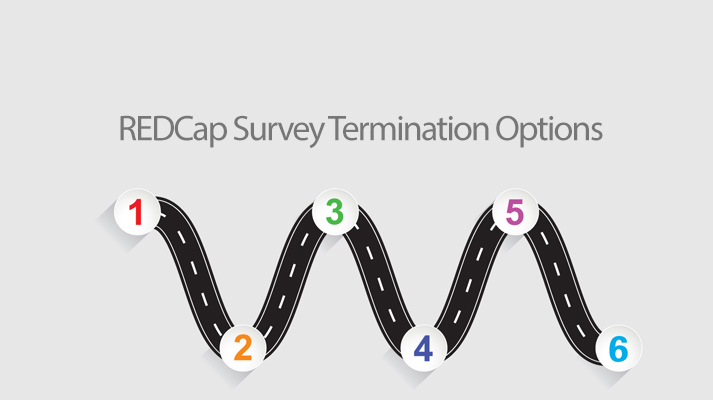 19 Nov

REDCap Tip of the Month: Survey Termination Options

Survey Developers can better guide the user experience for survey participants by customizing the survey termination options. These options can be found in "survey settings" in the online designer and include the following features.

Survey Completion Text
This is the default setting for any survey in REDCap and includes a standard "thank you" message. You can customize the text to any message that you want. This feature also supports HTML, which allows you to stylize the text and even insert pictures. See our previous REDCap Tip of the Month on inserting pictures to learn more. If you are using the survey queue feature to chain multiple surveys together, then your text will appear on the top of the survey queue overview.

Redirect to URL
You can also now redirect the participant to a website after they complete the survey. This redirect can be to your own study website or any other site relevant to your project. You can also have REDCap loop back to the survey itself if the survey has a public survey link. This looping feature is beneficial for surveys that might need to be completed more than once, such as adverse event trackers.

Auto-Continue to Next Survey
The auto-continue feature will allow you to automatically begin the next survey in your project. REDCap will go straight to the next survey in your form list, or, in case of a longitudinal studies, to the next form defined for the current event. If you want participants to complete multiple surveys in a row, then you must select this option for each survey in the chain. We recommend you use the survey queue if you want more control over how a participant is guided through your surveys.
Conclusion
You can use any of these three options in conjunction with the survey confirmation email. However, we recommend you only set up a confirmation email for one survey if you are guiding participants through a chain of surveys to avoid sending multiple emails to a participant.