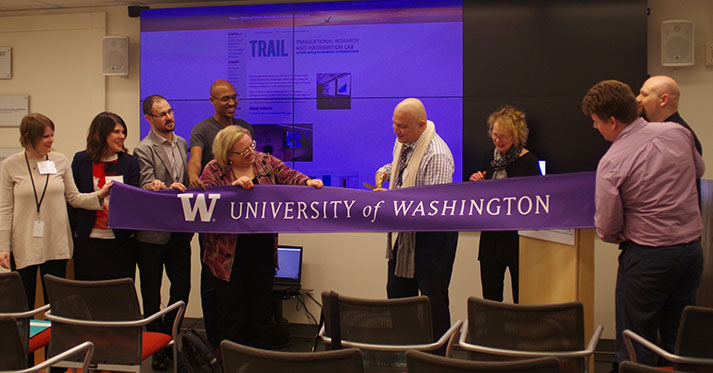 16 Jan

TRAIL celebrates a year of technology innovation

Posted on January 16, 2018 @ 10:23am

in

About ITHS

The Translational Research and Information lab (TRAIL) provides space and services that accelerate healthcare. For the past year, TRAIL has provided investigators with a much needed space for generating new ideas, exploring cutting-edge technology, and learning new skills.

With the anniversary of their initial ribbon cutting ceremony, TRAIL has launched the next phase of supporting research across UW campuses and departments. During this second phase of innovation, TRAIL aims to provide technology and expertise in support of research endeavors (like virtual reality, and population health), initiate and continue to offer training (like REDCap, online data management, and other emerging technology trends), and regularly introduce new initiatives based on the clinical research priorities established by the Health Science Library and the UW community.

The newly developed website breaks TRAIL down into fourteen services provided by the space and staff to help foster collaborations and catalyze strategic conversation. Services range from reserving the interactive 6-panel digital wall, REDCap class and consults, and accessing, analyzing, and storing various types of clinical data.

The ceremony highlighted three use cases from the inaugural year of the innovation lab.
LiveStories: a data platform for analysis and creation of interactive stories.
Open Researcher and Contributor ID (ORCiD): unique identifier for investigators to link an individual with their body of work.
Virtual Reality: surgical and teaching applications of visualizing medical data in virtual reality. Presenters Beth Ripley, MD, PhD, Ryan James, and Edward D. Verrier, MD, FACS, FACC, FAHA demonstrated how providing researchers and students with access to this technology encourages innovation in development. For example, a patient's heart can be studied in detail prior to surgery and a surgeon can practice a procedure virtually with the patient's actual data.
TRAIL is a collaboration between ITHS, the Health Sciences Library, the department of Biomedical Informatics and Medical Education, UW Medicine Information Technology services and the US National Library of Medicine for the Pacific Northwest region.