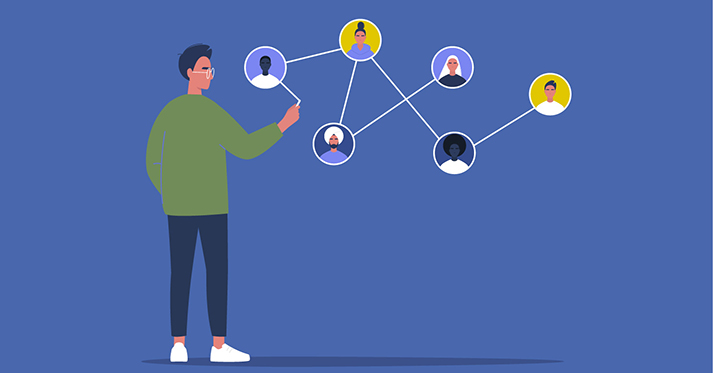 07 Mar

Connecting with Community Partners: Learning more about the Preclinical Engagement Project

This month, the Research Connector spotlight is on building community connections and how preclinical investigators can start strengthening those relationships to better serve their populations. To that end, we're learning more about the Preclinical Engagement Project with Sonia Bishop, Research Scientist in UW HSPop, Health Promotion Research Center and the ITHS Community Engagement Program, as well as one of the project leaders. We're also talking to Laurie Hassell, Director of Community Engagement here at ITHS. Both show us how this endeavor could address key knowledge gaps in research development.

Hi Laurie and Sonia! Thanks for sitting down with us today to talk about this amazing new project!
Laurie: I'm so happy to be doing it. We're really excited about expanding our work to include translational investigators working in discovery and preclinical translational science.

Who is working on the Preclinical Engagement Project?
Laurie: This project is being lead by Dr. Linda Ko in the Principal Investigator role, and Sonia Bishop is the staff lead. Supporting the project we have Maggie Ramirez, Dillon van Rensburg, James Probus and me!

What is the Preclinical Engagement Project?
Sonia: The Preclinical Engagement project is about facilitating a collaboration between preclinical investigators and with community partners to promote the design of user (patient)-centric therapeutics and devices.

So…what does it mean to engage with community partners? Can you elaborate?
Laurie: Absolutely. At the ITHS, we define "community" broadly to include community-based organizations, clinicians and clinical organizations, patients and other stakeholders involved in our research. When we facilitate community-academic partnerships, the goal is to effectively integrate diverse perspectives throughout the research process to improve innovations to be more feasible in the settings in which they will be used, make sure the innovation is clinically relevant, and is acceptable to the patients and communities who ultimately benefit.

Few research innovations ever make it to the clinic, and it can take a decade or more for patients or communities to benefit. Up to now less than 3% of the studies we support involve either basic or preclinical research; we focus largely on clinical research and implementation and public health. With the new Preclinical Engagement Project, we plan to match investigators working in animal models, tissue culture, biospecimens, etc. with community members for a short time (e.g., 12 months) to provide insights into how innovations emanating from their work could be more user centric. We want to understand if and how research and product designs change with early input from the ultimate beneficiaries of their work. And we're looking for investigators interested in working with us!

When is this happening?
Sonia: Right now, a needs assessment survey to better understand preclinical investigators' perceptions and experience with community engagement, is underway. We are also trying to determine what training needs are necessary to build a successful researcher/community collaboration. We would love for preclinical investigators to help us by completing a 5-minute survey (LINK). At this point, we believe we will complete data collection by the end of March.

At the same time, training modules for preclinical investigators and prospective community partners are currently in development, so that they can be tailored to the needs of the people who will be taking these courses and will be augmented with what we learn from the needs assessment survey. That process should be complete by July of 2023. What's exciting is that we will begin matching preclinical investigators with community partners shortly after we analyze data from the survey. It's unlikely we will have launched a partnership by July 1, but we should be well down the recruiting pathway by then.

Where is this taking place?
Sonia: Excitingly, this is happening across the WWAMI (Washington, Wyoming, Alaska, Montana and Idaho) region. We're thrilled to make this something that serves a larger regional audience.

What are some of the goals of this project?
Sonia: I think it's fair to say the goals are two-fold. First is to understand preclinical investigators' array of projects, knowledge of community partnerships and types of trainings that would be beneficial to foster community-investigator partnerships. ​

The second is to spreading awareness around the forthcoming Preclinical Engagement Program here at ITHS. We see the need for this and have for awhile, and we want to start spreading awareness that we have data and programming already developed to meet the need. It's tested and already in place, ready to serve the next round of research leaders that cross our threshold.

Additionally, there are four key components of this project that we're currently focusing on:
Addressing the knowledge gap about the importance and impact of community involvement in preclinical research development​
Leveraging the existing Community-Academic Connections Program to expand research with a new audience​
Partnering with ITHS cores and programs (e.g., Technology Development Center, Team Science) ​
Developing institution-wide guiding framework for helping organizations facilitate community-preclinical connections across their departments, not just individual projects​.
Why is this project important to ITHS?
Laurie: Well, there are several ways that this 5-year project typifies and amplifies ITHS priorities. This project extends our Community-Academic Connections Program to integrate community engagement earlier in the translational research spectrum. If successful, this project will result in a model that organizations can use to integrate community engagement across all preclinical projects, not just one project at a time. The ultimate impact would be to improve the overall feasibility, acceptability and uptake of therapeutics and diagnostics among patients and clinicians. That's how we define success. It's another example of the tangible ways ITHS is pioneering work that ultimately makes the research being done across our region more equitable and more accessible for everyone who stands to benefit from these advancements.