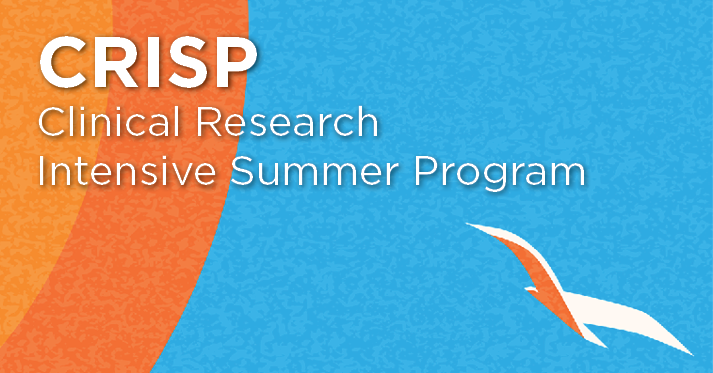 16 Nov

Introducing CRISP: Unique Learning Opportunity for Physician Clinical Investigators

Apply now for the Clinical Research Intensive Summer Program (CRISP), designed to provide research fellows and early-career faculty with hands-on experience and essential clinical research skills.

Scheduled from July 8 to July 26 of 2024, this new program provides a unique opportunity for up to 70 participants to enhance their research skills, focusing on clinical biostatistics and epidemiology. In addition, CRISP offers flexibility with elective choices, allowing participants to select between Quality Improvement or Clinician and Patient-Reported Outcomes. CRISP also emphasizes networking by creating opportunities to engage with experienced clinical investigators and gain insights into their career paths.

This program welcomes applications from all research fellows and early-career faculty members whose careers involve significant clinical investigation. Candidates selected to CRISP will be required to commit full-time, dedicating up to 4 hours in class daily and a similar out-of-class commitment throughout the 3-week period. The entirety of the program will take place in person at the Fred Hutch Cancer Center Campus, enabling opportunities for small group projects, engagement with senior clinical investigators, and networking opportunities among investigators, all of which are vital part of the experience.

Application Details
Application period opened: November 15, 2023.
Acceptance Notifications: Rolling basis notifications begin January 15, 2024.
Tuition: The program costs $3,000, covering instruction, course materials, social events, and some meals. Limited grants or matching funds might be available to eligible candidates.
Deadline for Tuition: Accepted applicants need to pay the tuition fee by May 1, 2024, to secure their spot in the course.
Application Requirements: Along with the application form, candidates are required to submit a CV, a brief personal statement of interest (within 100 words), and a letter of support from their department head or mentor, confirming their release from clinical responsibilities.
The Clinical Research Intensive Summer Program's inaugural launch promises to bring a new era of opportunities for the medical research community filled with networking opportunities, transformative educational experiences, and resources to bring participants' research to the forefront of translational science.