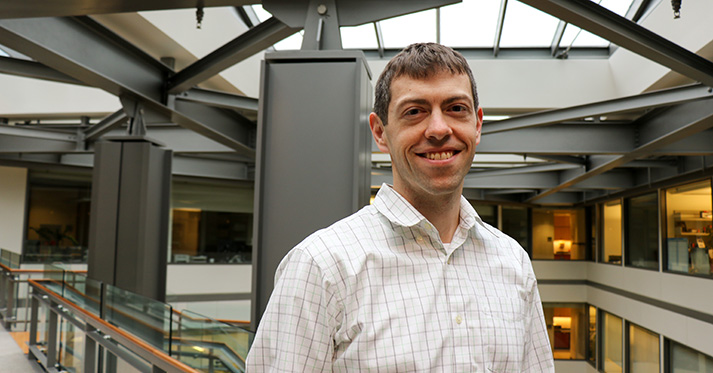 06 Feb

ITHS KL2 Scholar Translates Genetic Findings into Cancer Prevention and Survival Strategies

Globally, colorectal cancer is the third most common type of cancer, accounting for more than 10 percent of all cancer incidences. In 2013, the most recent year for which US statistics are available, 136,119 people were diagnosed with colorectal cancer and 51,813 died from colorectal cancer.

Jonathan Kocarnik, PhD, an ITHS KL2 Scholar and a staff scientist at the Fred Hutchinson Cancer Research Center, is working to reduce those numbers.

His research focuses on identifying genetic and environmental factors associated with cancer risk and survival, particularly for colorectal cancer. Kocarnik's ultimate goal is to help increase cancer survival—both immediately after diagnosis and decades down the road.
The KL2 program has been fantastic from the standpoint of creating a collegial group of scholars that are all working through this early period of academic careers together.
To do this, Kocarnik and his team at Fred Hutch are combining and analyzing genetic and epidemiologic data from a consortium of 20 studies from around the world. Coordinating with investigators at institutions in North America, Australia, and Europe, the team is setting up an International Survival Analysis in Colorectal Cancer Consortium (ISACC) to develop project proposals and analyses looking at different factors that might impact how long someone lives after diagnosis.
One factor Kocarnik is studying is how weight change relates to long-term survival. "It's a question that hasn't been answered in the literature," Kocarnik said. "The guidelines say that if you're overweight or obese, obtain and maintain a healthy weight. But these recommendations are based more on collective expectation for healthy individuals than specific evidence for cancer survivors. Our preliminary analyses are showing that, within the context of colorectal cancer survival, it may actually be the best case scenario for people to maintain their weight, even if overweight. While it is too early to change guidelines yet, we are working to explore this complicated issue in further detail. Hopefully, this will ensure that patients and physicians have the best information they need to help maximize survival after cancer."
Kocarnik and his team are also trying to find other factors that may impact how long someone lives after diagnosis, such as their genetic background, characteristics of their tumor, or lifestyle behaviors such as multivitamin use. Identifying these factors may help elucidate targets for future drug development, classify people who may need particular types of interventions or may benefit from different therapies, or suggest optimal lifestyle changes to improve survival. Ideally, these lines of research can ultimately be translated into precision medicine efforts to benefit cancer survivors.
Kocarnik's work is supported by the ITHS KL2 program, which provides the time, funding, and rigorous mentorship necessary to foster the early career development of clinical and translational researchers. "The KL2 program has been fantastic from the standpoint of creating a collegial group of scholars that are all working through this early period of academic careers together," Kocarnik said. "It has been great to be able to talk about my research with a broad group of clinicians and researchers, and learn from their many different areas of expertise."