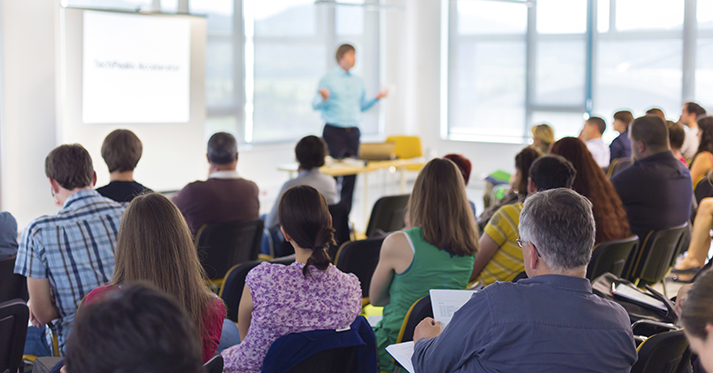 02 Oct

Q&A: Bas de Veer Talks REDCap 2015 Conference Highlights

Bas de Veer, REDCap Administrator for the Institute of Translational Health Sciences, recently attended the REDCap 2015 Conference hosted by the Oregon Clinical & Translational Research Institute. The conference covered topics such as system implementation, new features, system security, systems integration, plugins, and mobile applications. We had an opportunity to catch up with Mr. de Veer for a few minutes post-conference to hear about what he learned.

Q. What was your biggest takeaway from the conference?
REDCap is really maturing. It has graduated from a novel, innovative tool to a household name in today's clinical research space. This was noticeable throughout the conference in all talks, workshops, and breakout sessions. For instance, there was a large international delegation (i.e., Japan, Australia, Brazil, and South Africa) that talked about their unique experiences in getting a local REDCap installation off the ground.

Besides the international growth, the conference was also heavily attended by people from new institutions, continuing a trend moving from a few power users trading stories to a more mixed group of seasoned veterans and new administrators hungry for insider knowledge on everything from server setup and end-user training to tips on how to use the latest and greatest features.

Q. What types of new REDCap features are planned for the next year?
Last year saw the introduction of some great new features like the REDCap Mobile App, phone and text survey capabilities, and audio/video embedding. Rob Taylor, the main REDCap developer, gave us a sneak peek at some of the upcoming new features for the next year:
Survey themes are coming to REDCap relatively soon and will allow users to further customize their surveys with their own color schemes and fonts.
Another upcoming feature will allow users to implement randomized questions, allowing for higher quality responses by reducing biases.
But the biggest new feature is the capability to easily replicate forms on the fly. This will allow people more flexibility in tracking adverse events, medication lists, and daily diaries.
Q. What other topics stood out for you?
A recurring topic of conversation was the integration of REDCap with other systems like electronic medical systems, activity trackers, and visualization software. People are doing innovative things by utilizing and expanding various methods to move data quickly and easily between REDCap and external systems. This was a popular theme during the poster session, various workshops, and hallway conversations.
Q. What's next for you with the ITHS REDCap installation?
I got some great ideas from the conference on how to keep our level of service and responsiveness high while still introducing the new upcoming features and advising our users on how to get the most out of REDCap. Our installation of REDCap also passed the 3,000 active users mark while I was at the conference. Managing an installation with 3,000 users, as opposed to the 500 we had in 2012, is very different from an administrator perspective, which is a challenge I enjoy.