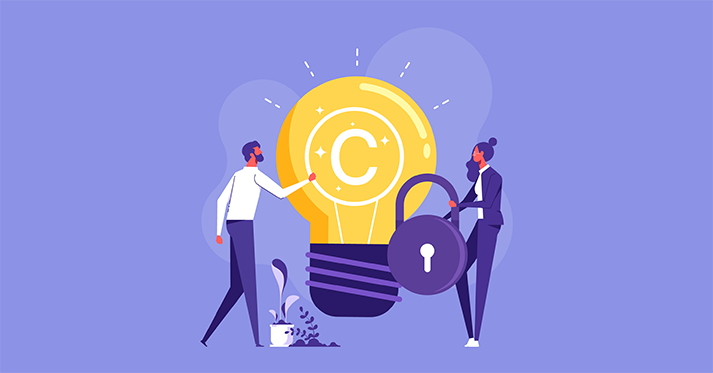 17 Nov

The ARPA Way: How ARPA-H is poised to supercharge health technology development

ITHS is proud to welcome guest author Isabella Jennings, a member of our TL1 training program, to talk about the UW ARPA-H committee, which just had it's first open house event in fall of 2023.

Each day, researchers across the nation perform work that has the potential to revolutionize healthcare. Yet clinical, financial, and commercial hurdles prevent many of these technologies from ever reaching patients. The Advanced Research Projects Agency for Health (ARPA-H) was founded to bridge the gap between discovery and public benefit by supercharging development though significant financial and management support. ARPA-H is the latest spin-off from the original Defense Advanced Research Projects Agency (DARPA), which was established in 1958. The ARPAs focus on rapid innovation and results with major impact. As President Biden described, "ARPA-H will pursue ideas that break the mold on how we normally support fundamental research and commercial products in this country." The goal of ARPA-H is to position high-risk, high-reward health technologies for scaling and distribution to consumers far more rapidly than traditional funding mechanisms allow. To achieve this, ARPA-H will provide different opportunities – and challenges – compared to typical NIH grants.

Founded in 2022, ARPA-H only began accepting applications for revolutionary projects earlier this year. The UW ARPA-H Committee was created to help organizations and research teams across Washington, Wyoming, Alaska, Montana, and Idaho (WWAMI) take advantage of these new opportunities. Integrating investigators across UW with other ARPA experiences, the committee aims to help research teams develop concepts, find collaborators, and connect to the rich network of translational and innovation resources across the region and beyond.

On October 31, 2023, the UW ARPA-H Committee held its first virtual 'open house' for WWAMI investigators to learn more about the new funding agency and the broader ARPA strategy and approach. Dr. Melissa Vaught, the ITHS Director of Research Development, highlighted what we know about the structure and application process for ARPA-H. Dr. Paul Yager, Professor of Bioengineering at the University of Washington, and Dr. Lynda Stuart, Executive Director of the Institute of Protein Design at the University of Washington, provided practical insights based on their experiences working on DARPA projects. Attendees brought key questions, which further illuminated topics such as the preparation needed to submit a proposal and the dynamics between research teams and program managers.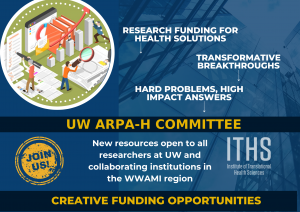 To understand key differences between ARPA and NIH funding, the management structure is one of the best places to start. At ARPA-H, program managers identify key challenges in healthcare that fall under the agency's focus areas: health sciences futures, scalable solutions, proactive health, and resilient systems. Program managers may either consider proposals from an open call or release a call for submissions to address a particular challenge. Applications must show revolutionary, not just evolutionary potential. Program Managers evaluate projects against a core set of simple (but not easy) questions, adapting the Heilmeier catechism that has guided DARPA for decades. The questions include considerations from "Who cares?" to how proposers will ensure equity through cost and accessibility.
ARPA-H isn't looking for incremental changes. It wants projects that have large potential impact for many patients in a short timeframe. There is no explicit cap on award size. Teams should ask for the funds they genuinely think they need to complete the proposed work. Dr. Yager pointed out that this means the budget is a critical piece of the application. Attention to detail and realistic expectations demonstrate that a team is truly ready for the benefits of ARPA-H support.
Multiple teams may be enlisted to address similar challenges in parallel. However, continued funding is dependent on successfully reaching the milestones outlined in your proposal. Program Managers require detailed regular reports and meetings to make sure that teams stay on track and to offer support as necessary. Projects only run for about three to five years, with no option for renewal, so falling behind is not an option. Teams that don't meet these milestones may be removed from the program—in other words, defunded. Dr. Stuart emphasized the importance of a strong, professional project manager to keep the work on scope, on budget, and on time.
Through collaboration with the Program Manager and connections established with ARPA-H's Customer Experience and Investor Catalyst Hubs, successful projects are expected to reach key development stages such as phase I clinical trials or IND/IDE submission. When asked about intellectual ownership of a project, Dr. Stuart cautioned against that mindset. Depending on the award contract, teams will retain control over commercialization and publication rights, but Dr. Stuart emphasized that, during the project, no one will have sole leadership. The ARPA Program Manager should be viewed as a major partner in the project. Teams will also need to share, collaborate, and depend on a wide array of specialists both inside and outside of ARPA-H. But, Dr. Yager noted, this also means you have the opportunity to found new areas of research and learn from the best in your field and beyond.
The ARPA-H application cycle mirrors the high speed of the program itself. The process typically begins with the submission of an abstract to the Open Broad Agency Announcement or challenge-specific programs. Program-specific solicitations set clear requirements for technologies addressing a big question. Currently, there are two open programs – APECx (Antigens Predicted for Broad Viral Efficacy through Computational Experimentation) and REACT (Resilient Extended Automatic Cell Therapies) – and more are expected to launch in the next year. After a program is posted, teams only have about a month to submit their abstract and two months to submit a full application if invited. This initial rush is just a taste of the high-speed, high-energy experience that is to come. Dr. Yager said that his projects with DARPA were some of the most demanding, challenging, and ultimately rewarding projects that he's undertaken. The progress that can be made both with a very high funding level and with the support of a Project Manager with clear vision and a strong network is astonishing, and it can take your technology further than you might imagine.
ARPA-H is an exciting new opportunity to supercharge the development of technologies that can change the landscape of healthcare. It values collaboration, speed, and results and will bring solutions to some of the thorniest problems in medicine. If you are interested in ARPA-H, explore their website to learn more about the types of projects they're looking for. The UW ARPA-H Committee and ITHS are available to help teams develop project pitches and identify resources and collaborators to round out your plan. The committee also plans to host future open houses to share emerging information and experiences.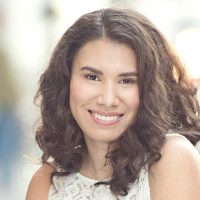 Guest author: Isabella Jennings

Isabella Jennings is an ITHS TL1 trainee (2023-24 cohort) and a third-year PhD student in the Department of Bioengineering at the University of Washington. She studies calcific aortic valve disease and likes to make digital illustrations in her free time.