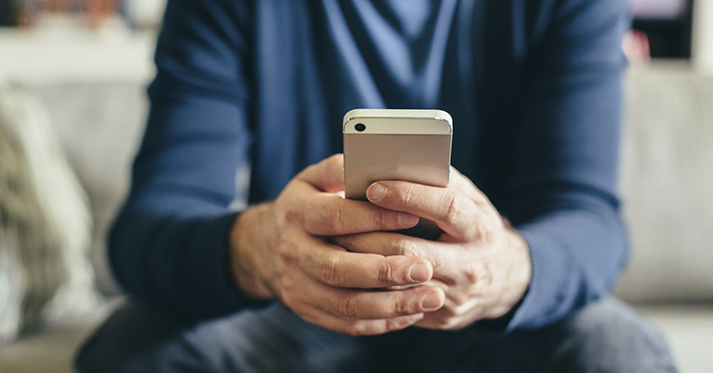 03 Dec

The Doctor Will See You Now – Via Your Smartphone

Imagine that you had an appendectomy a week ago. Things had been going well until today. Now your incision site is swollen, red, and tender. It might be infected. Do you wait until your post-operative appointment next week? Or do you go straight to the ER?
Patients are coming to us saying, 'Why can't I use my phone? I can use it to bank, shop, communicate with everyone else in my life. Why can't I use it to communicate with my provider?'
It is a question that many of Dr. Heather Evans' patients have grappled with. Patients would often email photographs of their incision sites to Evans, a UW Associate Professor of Surgery. "While many showed signed of normal healing, some of these actually looked quite concerning," she said. "One starts to wonder if there was anything we could have done before the wound got to that point."
That question led to the development of mPOWEr, an app that enables patients to share photos, symptoms, and concerns about possible infections directly with health care providers using their own mobile device or computer.
mPOWEr, which stands for Mobile Post-Operative Wound Evaluator, also has a patient management dashboard for providers. Via this dashboard, providers can monitor patients' wounds and communicate directly through the secure app.
Up to 30 percent of patients who undergo surgery have post-operative surgical site infections, and many of those infections happen between the hospital and the standard two-week post-op visit. Evans thought there had to be a better way to communicate with patients once they left the hospital.
She started asking surgical patients about their experiences with post-operative care and infections. "Nearly all of them were told to go to the emergency room because no one could diagnose their wound infection over the phone," Evans said. "A lot of these people don't live close to the hospital, and it is a big burden for them to get to the ER, where they might wait for several hours only to be told that everything looks fine."
"We started realizing that patients would like to have something that would be able to keep them in their own home, if they did not need to come back," she added.
ITHS Helps Kickstart an Idea
In 2013, Evans began working on the idea for mPOWEr with a team of collaborators, including Dr. William Lober, a UW Professor of Biobehavioral Nursing and Health Systems, and Patrick Sanger, an M.D. and Ph.D. candidate at the UW School of Medicine.
First, they needed to do a needs assessment. Using funds from an Institute of Translational Health Sciences translational health pilot grant, Evans and her team tracked 50 patients who had undergone major abdominal surgery at Harborview or UWMC. While only 8 percent had complications from infection, 60 percent had contact with a nurse or physician before their follow-up visit. "A lot of those inquiries were about their wound. There is a lot of anxiety around post-discharge management of new conditions," Evans explained.
The research funded by the ITHS grant helped establish that there was a need for mPOWEr. The team went to work on the app. With the preliminary ITHS data in hand, they were awarded a UW Patient Safety Innovations Program (PSIP) grant to launch a pilot implementation of mPOWEr in the first clinic at UW Medicine.
In October, patients at the UW Center for Reconstructive Surgery began using mPOWEr as part of a quality improvement project. So far, the reaction from patients has been positive. One of the first patients to use mPOWEr remarked how helpful it was to use it daily like a diary, to see that she was improving over time. Some patients who are unfamiliar with the technology have been nervous to use the app, but younger family members often offer to help, Evans added.
Providers have also given positive feedback, noting the ease of securely sharing patient-generated images with other providers. "Right now, being able to share photography is not something we can easily do in ORCA or EPIC. We feel like [mPOWEr] is really an adjunct to the electronic medical record," Evans said.
While providers love the functionality, some have expressed concern about adding an additional step to their workflows. As new channels for patient-provider communications are adopted and replace telephone calls, some providers worry about responding to a flood of new patient-generated data.
Balancing the workflow of providers with the needs of patients is one of the bigger challenges mPOWEr faces as the app evolves. It is also a challenge that Evans anticipated. "We have spent quite a lot of time thinking about work flow and how we do not want to inversely impact the provider on the other end of things," she explained.
A Growing Trend in Healthcare
mPOWEr is part of a growing trend in healthcare. Smartphone users now have more than 165,000 healthcare apps to choose from, according to a 2015 report from the IMS Institute for Healthcare Informatics. These apps go beyond the fitness tracker. Smartphones can now take blood pressure readings, monitor nitric oxide levels in users' breath, and even do an electrocardiogram.
Evans believes the use of apps and technology will continue to grow as people become more comfortable with communicating health data in real-time. "Patients are coming to us saying, 'Why can't I use my phone? I can use it to bank, shop, communicate with everyone else in my life. Why can't I use it to communicate with my provider?' A lot of this is driven by the patient," Evans said.
The biggest hurdle to integrating technology into healthcare will be the system itself, she added. "Things are not going to change immediately. It does take a long time to bring this enormous ship of healthcare around. It is a very complicated system."
Evans believes that monitoring technology could turn patients' bedrooms into hospital rooms. Instead of spending time recovering in the hospital, patients could go home immediately after surgery and be monitored remotely. But before that can happen, simpler apps like mPOWEr will need to pave the way for the future's more intricate technologies. "These are the really exciting ideas," Evans explained. "But it is going to take work like this to address how we get there from here. We have to lay some foundation so that there is an acceptable path before we jump all the way to something new like that."
The Future of mPOWEr
Evans and her team will soon be assisted by funding from a $30 million federal grant that was awarded to UW Medicine in October. The aim of the Transforming Clinical Practice Initiative award is to improve quality of care, increase patients' access to information, and spend healthcare dollars more wisely.
"Our team is so pleased to be involved in this, even in a small pilot way, because it is going to allow us to disseminate to additional clinics and demonstrate the value of this kind of intervention," Evans said.
Once the mPOWEr pilot project concludes at the Center for Reconstructive Surgery, Evans plans to bring the app to patients recovering from high-risk surgeries, such as colorectal surgery and abdominal wall reconstruction surgery. "We are very excited about the prospect of being able to extend the scope of our project and be able to help additional patients," Evans said.