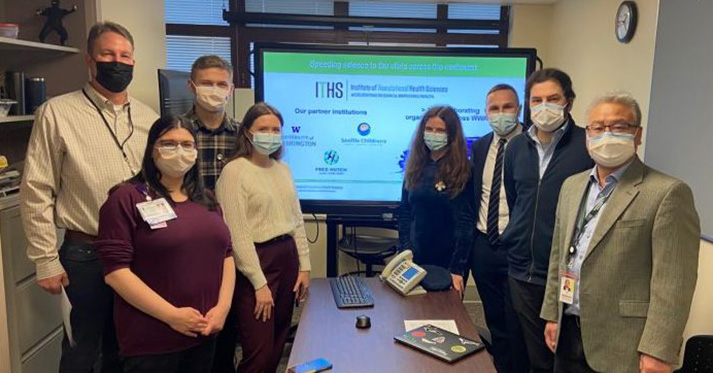 24 Jan

Ukrainian Delegates Visit the Institute of Translational Health Sciences

Nearly one year after Russian aggression began, the people of Ukraine are intent on rebuilding their nation. In hopes of speeding the transitioning to the rebuilding phase, a delegation of Ukrainian health professionals recently traveled to Seattle to gain a deeper understanding of the biotechnology field, Their goal? Advancing the biotechnology industry within Ukraine despite the challenges they are currently facing. Leaders with the Institute of Translational Health Science (ITHS) had the pleasure of hosting this Ukrainian delegation, representing the Ministry of Education and Science, Ministry of Health, National Health Service of Ukraine, Roche Ukraine, and Christian Medical Association.

Our visitors were interested in learning about the Seattle tech culture as well as fostering relationships with innovators in the biomedical industry. After connecting with researchers at the Fred Hutchinson Cancer Center, the Ukrainian team visited ITHS headquarters in South Lake Union, toured the ITHS Gene and Cell Therapy Lab and the Adult Translational Research Unit, and met with members of the ITHS team.

Tong Sun, Executive Director of ITHS, Kelly Young, Gene and Cell Therapy Lab QA Manager, and Miko Robertson, Adult Translational Research Unit Nurse, were happy to host the delegation. Robertson said the visitors spoke openly about the situation currently facing their country and how that has impacted them:
I was very much impressed by the Ukrainian team's candid experience about the war and how they are taking steps to rebuild their nation.
The Ukrainian delegation was particularly interested in understanding the ways in which ITHS and the University of Washington collaborate with internal researchers as well as innovators from other research institutions to drive biotech advancements.
As the cost for reconstruction increases with each defense against Russian missile attacks, the Ukrainian delegation emphasized the importance of advancing the medical and biomedical fields for the rebuilding effort. This enlightening discourse resulted in the Ukrainian team sharing insight into the ways research conducted in their academic institutions is disseminated, which differs greatly from the methods employed in Seattle. The delegation expressed a keen interest in understanding the methods used by ITHS and the University of Washington to establish and maintain partnerships with other significant research organizations, such as Fred Hutch, in order to facilitate the discovery and sharing of knowledge.
The ITHS team members were highly encouraged to observe the efforts being made by Ukraine to rebuild and were impressed by the significance they placed on advancing medical technology, as well as their dedication to fostering relationships with innovators in the biomedical field.