21 Oct

What's New with the ITHS CRC: Fall, 2014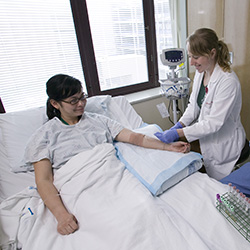 The University of Washington Clinical Research Center (CRC) is a resource within the Institute of Translational Health Sciences that provides clinical research space and support for investigators conducting research with human subjects. The goal of this update is to provide the local research community with the latest updates on CRC resources and tools that are available to support your work.
Don't see the resource you need? Just need a letter of support for your grant? Please feel free to contact us to discuss your needs.
New Lab Processing-Only Service Available
Do you need a certified, professional site to process clinical lab specimens? We are now offering training and use of our state-certified, well-equipped clinical specimen processing lab located in the UW Medical Center.
The lab has five Eppendorf 5702 RH clinical centrifuges with adjustable speeds and rotors, clean bench space, and temporary storage at 4C, -20C, and -80C. Minimum use is one hour, with pricing of $10 an hour, and pro-rated at half-hour increments after the first hour.
Welcome Our New CRC Nurse Manager
Please welcome our new Nurse Manager, Hyacinth (Hwayun) Lee, MSN, MPH, PhD. Dr. Lee comes to us from Johns Hopkins in Baltimore and brings a wealth of leadership, knowledge, and experience in clinical research services.
Dr. Lee's career spans nearly 20 years of progressive nursing practice, clinical leadership, and research. Her experience includes support of federally-funded clinical research, pursuit of her own academic research projects, and critical care nursing focused on cardiology.
We are very excited to welcome Dr. Lee to the University of Washington and invite you to come by the CRC to meet her.
Inpatient Research Support (IRiS) Service
Did you know coverage for research related care at UW Medical Center is available on our oncology units (7NE, 8NE, and 8SE)? We have recruited a pool of nurses from the UWMC oncology units who collectively provide 24/7 on-call availability to accommodate unanticipated admissions and off-hour coverage to meet this need.
The following services are available for research patients admitted to UWMC oncology units:
PK sampling / PD sampling
General Lab sampling as needed
Urine sampling
Research ECGs
Questionnaires
Frequent vital signs or weights
Whether you are just planning or are actively enrolling participants, please contact Chi Do by email or by phone at (206) 598-2163 for more information about this service.
Customer Satisfaction Survey is Coming
In the effort to better serve the local research community, we would like feedback on your satisfaction with our work. We will soon be sending a simple survey to research teams that have "open" studies in the CRC.
Thank you in advance for your support in helping us improve our service. We will share the results, as well as any plans for improvements, in our next CRC update.
CRC Visit Cancellations
We experienced 77 cancellations and 10 no-show visits in the first six months of 2014. In order to provide the optimal availability for scheduling research visits, we ask that study teams please let us know as soon as possible when a cancellation will occur. Timely cancellations allow us to accommodate our wait list and to better control nursing costs. Thank you!