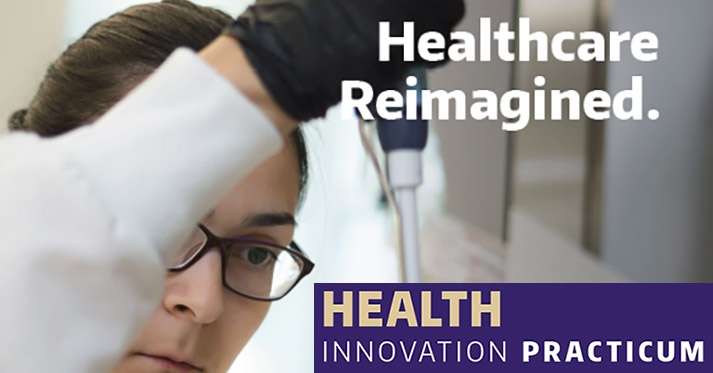 28 Sep

UW Health Innovation Practicum

Posted on September 28, 2017 @ 9:44am

in

When:

September 28, 2017 @ 5:00 pm – 6:50 pm

2017-09-28T17:00:00-07:00

2017-09-28T18:50:00-07:00

Where:

Paccar Hall 391
4277 E Stevens Way NE
Seattle, WA 98105
USA


Contact:

Terri L. Butler, Ph.D.

206.685.5538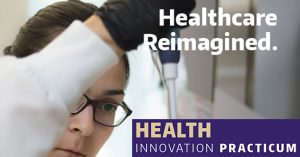 Students will hear fantastic leading-edge speakers, work on idea generation for changes that will make a difference in healthcare, then roll up their sleeves and work in teams to figure out how to make their ideas a reality. This 2 credit course is for grads and undergrads from all majors. ENTRE 445/545
Students and community members can also sit in and hear the speakers without taking the course for credit. There is no registration required, though in some cases there a recommended readings and videos for class preparation which can be found on the class webpage.
Course description
The goal of this seminar is to help students innovate and create solutions to the toughest health challenges we face –on a domestic or global scale. Students will form cross-disciplinary teams around project concepts chosen by the class and present the team's solutions to classmates and a panel of expert judges who will score the presentations. Although not required, teams are invited and encouraged to go beyond the class to compete in the 2018 Health Innovation Challenge.
Learning objectives
Learn about some of the biggest challenges in the health field are, and how various actors are tackling them.
Learn from best-in-class innovators and industry experts about solutions emerging in health.
Evaluate business opportunities in health as outlined by guest speakers, required readings and world news.
Gain hands-on experience in creating business solutions for issues in Health and pitching your ideas to panels of experts.
Instructors
Emer Dooley and Russell Benaroya
Additional Resources
Class schedule
Date
Topic / Tentative Class Plan
Class Guest Speakers
CLASS 1: 9/28/2017
Top Healthcare Issues and Opportunities

The US Centers for Medicare and Medicaid (CMS) pegs US healthcare spending at about $10,000 per person per year, without exceptional outcomes. That's about $3.2 trillion dollars. Almost 90% of that spending is in medical services, but only 20% of healthcare outcomes are determined by the medical system. We'll cover this and other issues in healthcare.
Kevin Cable, Managing Director, Healthcare and Digital Health, Cascadia Capital
CLASS 2: 10/5 2017
Business Model Canvas; Pitch Ideas; Choose Teams.
CLASS 3: 10/12/2017
How Money Flows in Health

The US system traditionally operated around three distinct groups: Patients, Providers (Doctors, Pharmacies, Hospitals etc.) and Payers (Generally companies, government, insurers). We will cover how creating a business model for a health innovation hinges on finding a way to capture a revenue stream, in a market where traditionally consumers don't choose or pay for the services they need, and where providers are incented to "do something" rather than help consumers avoid the medical system entirely.
Henry Albrecht Founder and CEO, Limeade; Ralph Derrickson, CEO, CarenaMD; Mike McSherry , CEO Xealth
CLASS 4: 10/19/2017
Invited panel of judges who will become team mentors. We will spend the class giving feedback and offering suggestions to help move the project along.
CLASS 5: 10/26/2017
Navigating regulation

Few industries can compete with Healthcare for the challenges posed to entrepreneurs by regulations. These include long-standing regulations such as FDA and HIPAA (Health Insurance Portability and Accountability Act) to newer strictures around Health IT, such as Meaningful Use and The Affordable Care Act. Learn which regulation may shape the implementation of your idea.
David Schoolcraft, Co-Chair, Health Care Group with a practice focusing on health care and information technology, Ogden Murphy Wallace
CLASS 6: 11/2/2017
Sharing Risk / Aligning Interests
Mike Hilton, Chief Product Office, Accolade
CLASS 7: 11/9/2017
Capitalizing a Healthcare Startup

In 2016 total investment in healthcare was $16 billion: $8.1 billion in biopharma, $3.8 billion in devices and $4.2 billion in digital health. The digital health category is growing fast, with the most money going to companies focused on genomics and sequencing, followed by analytics and big data, wearables and telemedicine. Learn how these investment decisions are made and whether your idea is fundable.
Kirsten Morbeck and Eric Bell, Managing Directors, Springrock Ventures
CLASS 8: 11/16/2017
Data in Healthcare

Some of the greatest opportunities in healthcare lie in the data space: Intuitive, accessible, sharable personal health records that interpret terabytes of genomics data. Artificial Intelligence systems that can help providers sort through the masses of email, lab results, scans, referrals and prioritize or triage depending on criticality. Analytics systems in precision and personalized medicine, and analytics to support the drive towards value-based medicine. Learn where the opportunities and gaps are in this space.
TA McCann, Serial entrepreneur, Founder Rival IQ, Entrepreneur in Residence, Providence Health and Services
CLASS 9: 11/30/2017
From Nail it to Scale it

The success of every company depends on scaling from that first employee, product and customer to a sustainable enterprise with multiple teams, locations, partners customer and stakeholders. How can you navigate that transition and build an enduring organization?
CLASS 10: 12/7/2017
Final presentations

Class will be in Douglas Forum on 4th floor of SEEC with invited guests. Class will also extend to 6:30pm to give time for feedback and socializing.
Details and Class Preparation