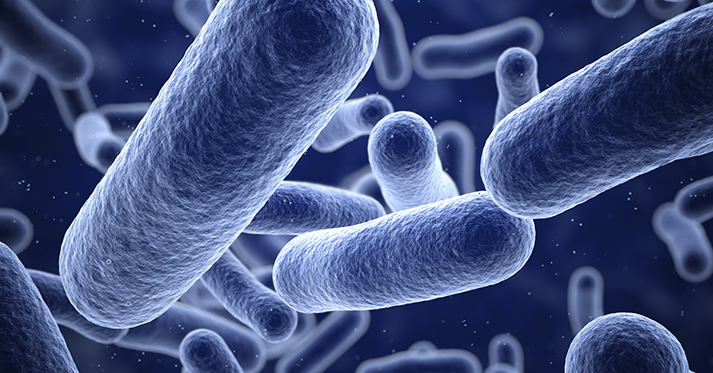 ITHS Scholar Awarded R21 to Study C. difficile Therapy
ITHS Regional Translational Scholar Dr. Kirk Hevener was recently awarded an NIH Exploratory/Developmental Research Grant Award (R21) by the National Institute of Allergy and Infectious Disease (NIAID) to investigate the bacterial enzyme FabK as a novel, druggable target for selective therapy of Clostridium difficile infections.
FabK is a key enzyme in the bacterial fatty acid synthesis pathway (FAS II) of C. difficile and is not found in other bacteria that are associated with a healthy gut.
Hevener hypothesizes that inhibitors of the FabK enzyme will show selective activity against C. difficile, while causing minimal disruption to the normal intestinal flora. That hypothesis is based on existing literature and Hevener's own preliminary data, which was funded through the ITHS Regional Translational Scholars program.
Earlier this year, ITHS wrote about Hevener's search for an existing compound that inhibits FabK. Using preliminary data gained from that research, Hevener submitted the R21 application to broaden the scope of his research to a target validation proposal. The grant was awarded on June 25, 2016.
While funding from the Rising Stars helped him generate the data for the application, Hevener said that career development resources were especially helpful.
"The Regional Translational Scholars grant was sort of a small pilot grant," he explained. "The funding I got through the Regional Translational Scholars program helped me to do some experiments in my lab, but, more importantly, the actual programs I was partaking in, the monthly conference calls, onsite visits, career development aspects, and other things, also helped me significantly. It wasn't just the pilot funding. It was also the career development that really helped me put together a strong application."
Hevener will be working with chemist Dr. Dianqing Sun, an Associate Professor at the University of Hawaii at Hilo, and microbiologist Dr. Julian Hurdle, an Associate Professor at Texas A&M University. "We've put together a strong, multidisciplinary team," Hevener said. "I think that's part of what made the grant proposal competitive. There's no such thing as siloed research these days."
He added that the Regional Translational Scholars program "places a lot of focus on how to talk to people about your science and form collaborations. Those are really good skills to have for someone who wants to be successful."