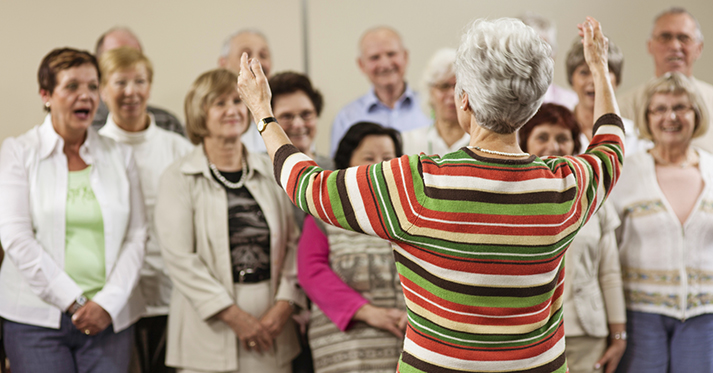 A Secret to Healthy Aging? Join the Choir
Given the growing number of older adults, there is a need for innovative and cost-effective strategies that promote the health and well-being of an aging population.
What if measurable health benefits could come from something as simple as a group rendition of "Oh, What a Beautiful Morning"?
Musetta C. Fu, a nurse practitioner at the University of Washington Medical Center and former Institute of Translational Health Sciences TL1 trainee, believes it is possible.
This belief is based on the results of a pilot project she recently completed. The project evaluated the impact of a group-singing program on older adults' health, as well as the feasibility of implementing the program in retirement communities.
Fu recruited 49 older adults from three retirement communities in King County. Over 12 weeks, the participants attended a weekly 75-minute group singing session. Each session consisted of pre-singing exercises (e.g., muscle stretching, breathing techniques, and vocal exercise), song-singing and learning, and post-singing socialization time.
While participants sang songs from their musical eras (favorites included "Give My Regards to Broadway" and "Oh, What a Beautiful Morning"), they were also encouraged to learn new songs ("With a Little Help from My Friends"). "That's the concept of continuing learning," Fu explained. "It can help stimulate or maintain older adults' cognitive function."
Participants also received training in diaphragmatic breathing and vocalization exercises that can help strengthen respiratory muscles.
At the end of the 12-week study, Fu compared the pre- and post-study assessments of participants' cognitive function, pulmonary function, and quality of life.
The results were positive, Fu said. "We found pretty significant improvements in their short-term memory function, executive function, and respiratory muscle strength after engaging in the singing program," she added.
Participants reported they were satisfied or highly satisfied with the program, awarding it a 9 on a 10-point scale. There were a few barriers. "Some people complained about the song keys being too high or too low," Fu said.
But overall, the program was "highly accepted and very feasible to implement," she added.
***
The inspiration for this project came from a surprising source: Fu's grandmother. At 93, she is mentally sharp and healthy. She also loves to sing. Fu wanted to know if there was a correlation between singing and her grandmother's quality of life.
Like her grandmother, Fu has always enjoyed music. She grew up in a musical family and learned to sing and play the piano and guitar at a young age. As an undergrad, she studied music performance and music education. After teaching music education in Taiwan for several years, Fu enrolled in a music therapy graduate program. It was during an internship at a Cleveland hospital that Fu discovered she enjoyed working in the healthcare field.
She also realized she had questions that she could not answer as a music therapist. "To answer my questions, I needed more skills," she explained. "That was the spark."
In 2011, she enrolled in the doctoral program at the UW School of Nursing.
Two years later, Fu was selected for the three-month ITHS summer TL1 program. Over the summer, Fu conducted focus groups to gather perspectives from older adults and retirement community directors about group-singing programs. She used the focus group answers to develop the program.
She then applied and was selected for the one-year ITHS TL1 training program. The program allowed her to get a head start on testing the three-month singing program as her dissertation project.
"With the generous TL1 funding, I had more time and energy to focus on my research project," Fu said. "Also, I appreciated the peer support. I learned a lot from colleagues in my cohort. Many of them were from the epidemiology department and very good at statistical methods, so they gave me feedback on my project. It was good training for me."
***
Fu plans to publish the results from her project in the coming months. Her goal is to provide scientific-based evidence that can be used to promote inexpensive and accessible interventions, like singing, to maintain older adults' health.
"Globally, we have rapid growth in older adult populations," Fu said. "It's very important to maintain this population's well-being. This is a different way to promote older adults' function."