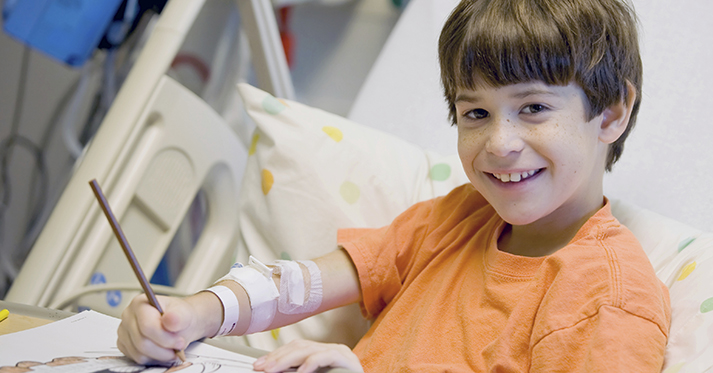 19 May

Harnessing T Cells to Treat Relapsed Pediatric Leukemia

A long-time interest in T cells made immunotherapy research a natural fit for Dr. Rebecca Gardner when she decided to pursue a career in pediatric oncology. Her latest study, Pediatric Leukemia Adoptive Therapy, or PLAT, combines these interests to bring new treatments to pediatric and young adult patients with relapsed Acute Lymphoblastic Leukemia (ALL).

Current therapies for ALL, the most common type of cancer in children, involve chemotherapy and radiation, neither of which is a particularly targeted approach to treatment. Current treatments are also not always effective, with some children suffering relapses in which the cancer returns after an initial period of improvement. To address these challenges, PLAT takes a much more targeted approach to treatment in relapsed patients by genetically modifying their own T cells to attack the cancer cells.

"This is really a boutique therapy," said Dr. Gardner, who is an assistant professor in the Department of Pediatrics at the University of Washington and attending physician at Seattle Children's Hospital. "We reprogram a patient's T cells to recognize leukemia cells as being bad, which makes it a very personalized and patient-specific treatment."

Patients who enroll in Dr. Gardner's PLAT trial have their T cells harvested via an apheresis procedure. The T cells are then purified and the DNA modified in the Seattle Children's therapeutic cell production facility. This process, which can take a couple of weeks, enables the research team to reprogram a patient's T cells so their immune system will be able to identify, attack, and destroy cancer cells in their body. Once the facility finishes its work, the T cells are reintroduced to the patient via an infusion.

To support the study protocol, Dr. Gardner turned to the Institute of Translational Health Sciences' Pediatric Clinical Research Center (CRC), which is housed at Seattle Children's Hospital. Patients receive their infusions in the CRC from a hematology-oncology nurse, and CRC nurses then monitor each patient for the remainder of their stay to ensure there are no adverse reactions to the infusion.

"The relationship with the CRC allows me to utilize their knowledge base of clinical research to effectively support the infrastructure for this clinical trial," shared Dr. Gardner. "There is a real ease of use when working with them, and they allow us the ability to conduct clinical research without having to pay an arm and a leg."

The PLAT study has been open for a year and is more than a quarter of the way to meeting its enrollment goal. A total of 11 of the 13 patients enrolled initially enrolled onto this study achieved a complete remission, making Dr. Gardner optimistic the results from PLAT will help bring immunotherapy closer to reality as a standard, targeted treatment for patients with relapsed ALL.

To learn more about how ITHS can support your research, please contact the ITHS Research Navigator.