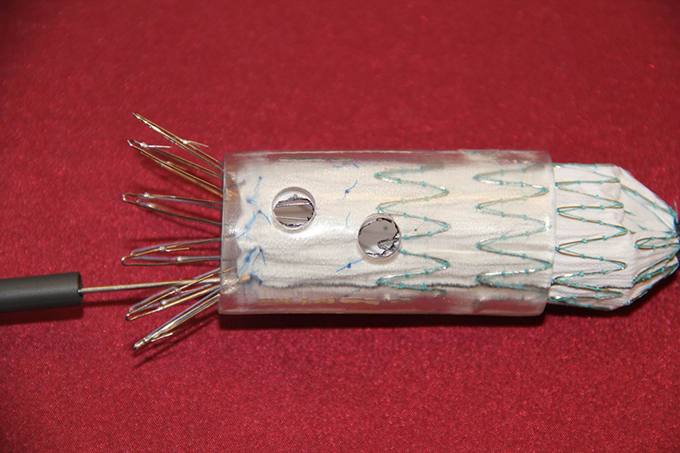 A 3D printed replica of patients' aortas helps doctors create precise fenestrations in stent grafts.
10 Nov

3D Printing Makes Alternative Treatment for Abdominal Aortic Aneurysms Possible

Vascular surgeon Dr. Benjamin W. Starnes pioneered a new treatment for abdominal aortic aneurysms. Now he is using 3D printing to perfect it.

Abdominal aortic aneurysms, abnormal bulges in the wall of the aorta, can be silent killers. They develop slowly over many years and often present no symptoms. As the aneurysm grows, the risk of rupture increases. Each year, 15,000 Americans die from a ruptured aortic aneurysm. When detected in time, an abdominal aortic aneurysm can usually be repaired with surgery.

The advent of open surgical repair using synthetic grafts in the 1950s was the first treatment for abdominal aortic aneurysms. The operation is performed by opening the abdomen, moving the internal organs out of the way, and then sewing a graft into the opened aneurysm. It is a complicated procedure that has a 3 percent mortality rate within 30 days of surgery. Searching for a better solution, doctors developed the first catheter-based, arterial approach to treating abdominal aortic aneurysms in the 1990s. Instead of an abdominal incision, the graft is inserted through an incision in the femoral artery in the patient's groin. The graft is then guided by X-ray visualization to the appropriate position in the aorta, where it is unsheathed and secured with metal stents.

This technique, called endovascular aneurysm repair (EVAR), is less invasive than open surgery and can be performed under regional or local anesthesia. With a mortality rate six times lower than open surgery, EVAR has now became the standard treatment for a majority of patients.

Unfortunately, not all patients are suitable for the treatment. For endovascular aneurysms repair procedures, there needs to be enough space between the visceral and renal arteries to allow for a secure seal of the graft to the artery wall. "About half of the 40,000 patients who undergo elective repair of aortic aneurysms do not have a suitable neck to seal the endograft," Dr. Benjamin W. Starnes, Chief of Vascular Surgery at Harborview Medical Center, explained.
Nearly 20,000 patients undergoing surgery do not have enough room for a graft between the aneurysm and the branch arteries.
For these patients, the only other option, besides the open invasive surgery, is ordering a customized graft from a company in Australia. "It's expensive. It takes precise planning. You have to wait about four to six weeks for it to be made and delivered. And it has it very specific limitations in terms of what they can and they can't make," he said.
Starnes knew there had to be a better way. It would take some creativity on his part, but that was nothing new for him. Before coming to Harborview Medical Center, Starnes had spent 15 years as a U.S. Army surgeon. Operating in resource-limited environments required finding creative solutions to managing battlefield wounds.
"This is PMEG," Starnes said, holding an endovascular stent graft, a tube of fabric supported by a metal mesh that is close to the width of a garden hose. PMEG is an acronym for Physician Modified Endovascular Graft, a procedure that Starnes created himself by tinkering with expired devices.
In the operating room, Starnes creates two to three holes (fenestrations) in the upper portion of the graft based on measurements made from the patient's CT scan. This allows the graft to be located above the renal arteries without blocking blood flow and enables an adequate sealing zone. The graft is then re-sheathed and placed into the aorta through the femoral artery in the patient's groin.
Starnes uses an ophthalmic Bovie cautery device to create the fenestrations, thus avoiding fabric fraying.
Fenestrations created for the superior mesenteric artery (SMA) and left and right renal arteries (strut-free).
It takes two to three hours to plan and about one hour to make the fenestrations—if you are Starnes. Physician modified endovascular grafts are largely dependent on the skills of the physician, who must obtain precise measurements and design the graft. Because of this, many physicians have shied away from the procedure.
Starnes' solution? Remove the opportunity for human error. In August, Starnes received FDA approval to create grafts with precise fenestrations using 3D printed replicas of each patient's aortic anatomy. "[The graft] is going to fit like a glove. Why wouldn't it? We just used your aorta as a template for that," Starnes said, referring to the modified graft.
The 3D printed templates will be used in Starnes' investigator-initiated investigational device exemption (IDE) study, administered in conjunction with Harborview Medical Center. His study, which began in 2011, is currently the only FDA-approved PMEG study in the United States.
A 3D printer creates an exact replica of a patient's aorta from a digitized CT scan. Starnes then makes precise fenestrations, using the 3D mold as a guide.
Securing FDA approval for investigational device exemption studies of this nature is a challenging and costly process, requiring extensive regulatory and compliance knowledge.
"It was kind of intimidating at first," Billi Tatum, Research Nurse at the Division of Vascular Surgery at UW Medicine who works with Starnes, said. "I had never done an FDA study that we had written. It was a long process to do that. It took us six months to get the whole protocol written, submitted, and approved."
Stringent study monitoring is required by federal regulations for these types of investigator-initiated studies. As a result, an investigator must contract with a third-party to monitor the data. To ensure compliance with these requirements, Starnes and Tatum enlisted the Institute of Translational Health Sciences' Research Coordinator Center to conduct the exhaustive monitoring of the study data.
"The FDA requires that any study have outside people that monitor to make sure we're doing the study correctly. We were introduced to ITHS, interviewed them, and hired them," Tatum said. "They've been very helpful to us."
Starnes hopes his research will help physicians create grafts that are made quickly and customized for every patient. His long-term goal is giving an option besides open surgery to the 20,000 people who do not qualify for the standard endovascular aneurysm repair surgery. "The opportunity to treat almost every aortic pathology using endovascular techniques is going to change the risk profile for this procedure," Starnes said.