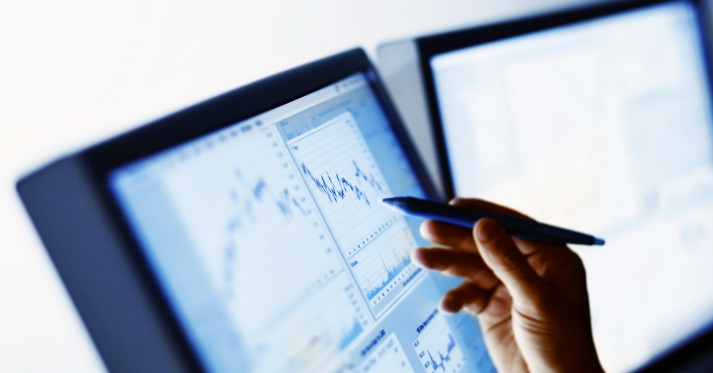 15 Mar

REDCap and Leaf: a pair of research support tools

ITHS designs and supports an assortment of tools to make the research process easier. Yet with a toolbox full of resources, it also becomes important to ask, how do these various systems work together to support a project as a whole?

ITHS recently launched Leaf, a user friendly self-service interface to scan electronic medical record data sets for local investigators. Research Electronic Data Capture (REDCap) is a customizable, HIPAA compliant web tool created for researchers. The following article will help Leaf users understand how to integrate REDCap and Leaf data on either platform.

Utilizing REDCap and Leaf together will enable you to combine patient reported outcomes with medical record data. By importing into Leaf, you can run queries using data from your REDCap project in combination with clinical data to gain new insights. Exporting to REDCap will enable you to explore clinical data and use them to fuel other powerful features like surveys and custom reporting. Learn how to import to Leaf from REDCap via API Token, import lists of Medical Record Numbers directly into Leaf, and export to REDCap from Leaf through the steps below.
Import to Leaf from REDCap via API Token
Step 1: In the Project Home page, click on "API" under "Applications" on the left side. Then, generate & copy the new token. An API token is a string of numbers and letters associated with the project to access its information.
Video guidance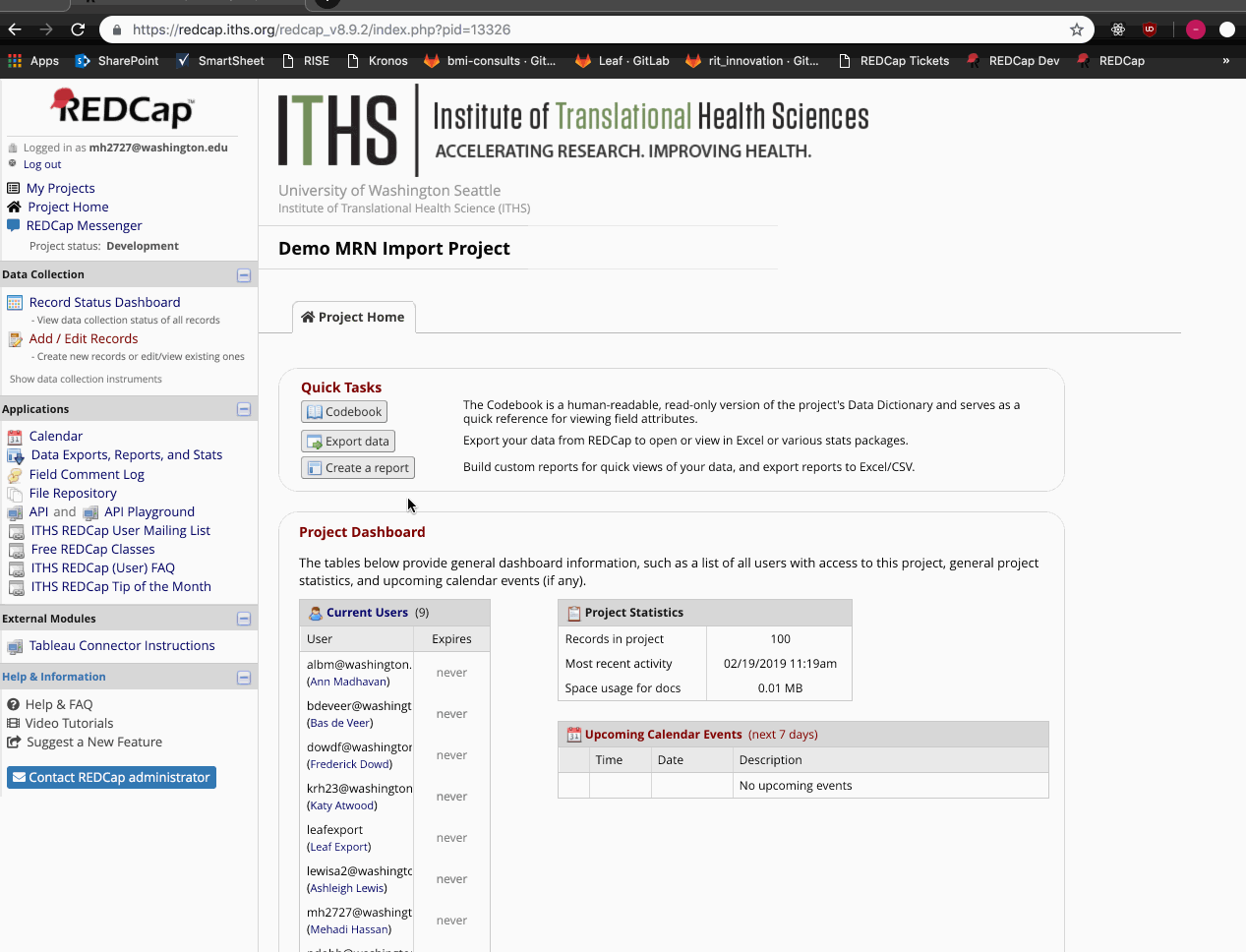 Step 2: After copying the token, login to Leaf to continue with the import.
Select "MyLeaf" on top of the page
Select Imported REDCap Projects tab
Select "Import New Project" on the upper right corner
Step 3: Paste the token on the new pop-up window.
Specify the field in your project that holds the UW Medical Record Number (MRN), Leaf only imports data for patients with a matching MRN
Select a date field which can later be used in the queries; e.g. search parameters
Step 4: The imported REDCap project will be its own concept in Leaf under "My REDCap Imports."
The imported project is now a drop-down, which enables you to run queries on it. You can use parts of the import and/or combine data from the medical record (this will enhance your searches for more refined results)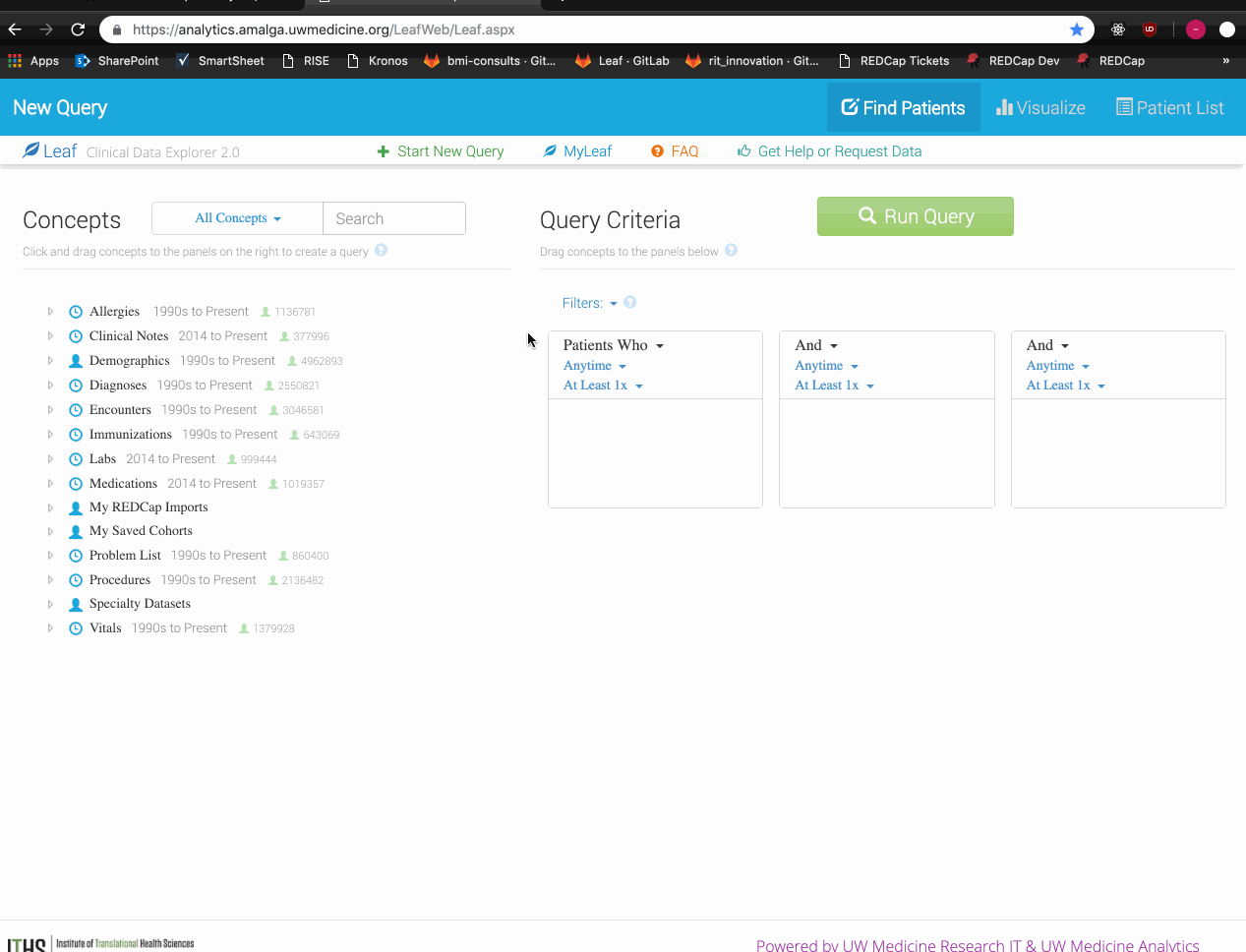 Import lists of MRNs directly into Leaf
Another way to import to Leaf is via patient Medical Record Number (MRN).
Step 1
Open the file where the MRNs are stored
Copy the MRNs
Step 2: After copying the MRNs, login to Leaf and go to "MyLeaf" on top of the page. 
Select the MRN Uploads tab
Click on "Upload MRNs" on the upper right-hand corner
Paste the MRNs
Name the project/category and upload
The imported list of MRNs will be its own concept in Leaf under "My REDCap Imports."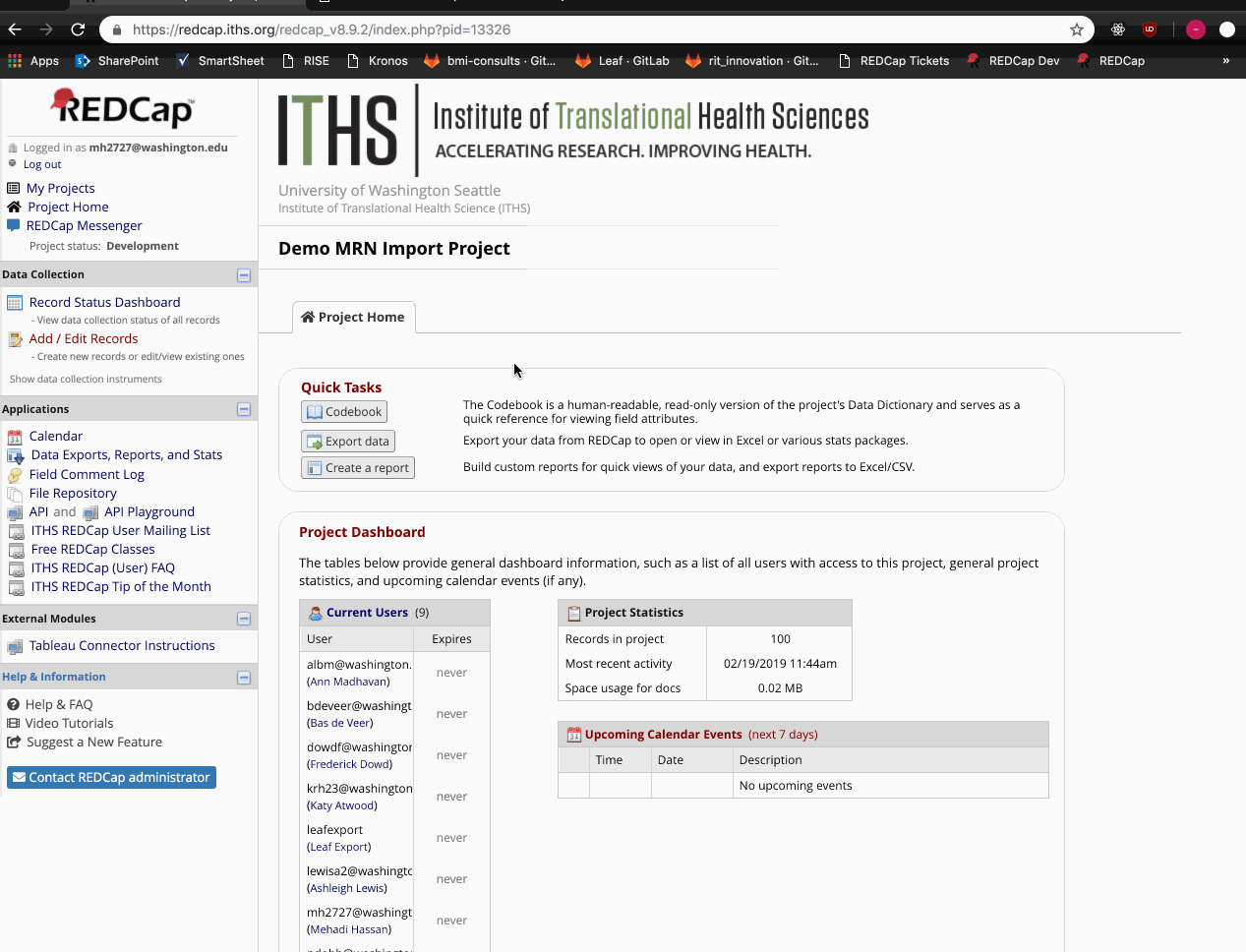 Export to REDCap from Leaf
After running a query on Leaf, the dataset can be exported to REDCap for further investigation. Leaf only exports directly into REDCap both to preserve the security of the HIPAA compliant dataset and to enable you to port information into a number of different statistical formats.
Step-by-step guidance
Select "Patient List" on the upper right corner after a query runs
Select "Export Data" below Patient List
Name the project
Individual queries will be exported into REDCap as separate projects.