26 Aug

ITHS Congratulates Outgoing TL1 Summer Trainees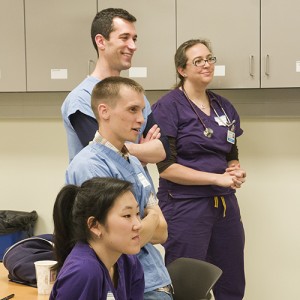 The Institute of Translational Health Sciences extends its congratulations on a job well done to 12 University of Washington students as they conclude the ITHS summer-long TL1 Multidisciplinary Pre-doctoral Clinical Research Training Program.
The goal of the TL1 program is to increase the number of well-trained clinician-scientists capable of assuming lead roles in the design and oversight of future interdisciplinary clinical and translational investigations.
The summer-long version of the TL1 program focused on enabling pre-doctoral students to work with interdisciplinary teams who are conducting clinical and translational research in the laboratory, healthcare settings, or in the community.
The 12 students who are finishing their summer-long training represent all six of the UW health sciences schools:
Monique Luu, School of Dentistry
Sohaib Soliman, School of Dentistry
Adam Szajman, School of Dentistry
Elana Feldman, School of Medicine
Daron Vandeleur, School of Medicine
Shih-Yin Lin, School of Nursing
Natsuko Wood, School of Nursing
Michael Liao, School of Pharmacy
Jessica Sontheimer, School of Pharmacy
Christine Korhonen, School of Public Health
Jessica LePak, School of Social Work
Katherine Querna, School of Social Work