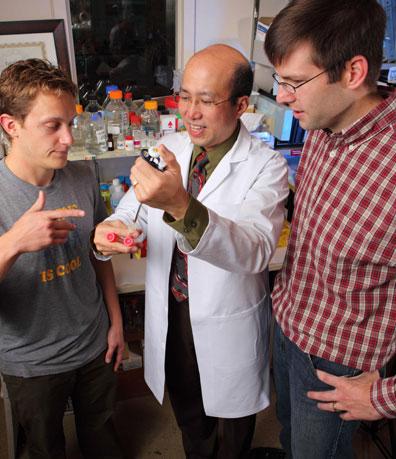 08 Jun

Ignition Award Powers Nasal-Drug Delivery Device Toward Commercial debut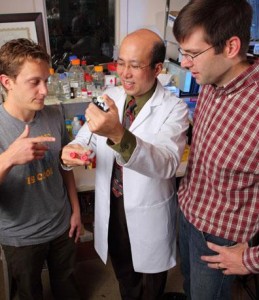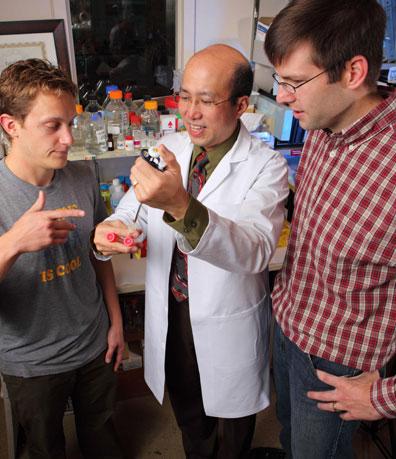 For pharmaceutical researcher Rodney Ho, there was a flash of an idea and then a journey of a thousand small steps to get it from the laboratory to patients. One of those integral steps was a pilot grant from ITHS for testing a device in primates that had shown promise in rats.
His team was working on getting drugs across what is sometimes called the blood-brain barrier. The human body prevents many substances from penetrating into the brain, even if they are circulating in the blood.  One other problem is that many drugs for the brain – while circulating in the blood – do damage to other organs, such as the liver and kidneys, as side effects.
But the team's innovation was to try to put drugs directly into a special portion of the nasal cavity, the olfactory area, where most substances can be taken directly into the brain. Much of the challenge of this method was in designing a consistent and effective method for transporting both powder and liquid doses into the upper chamber of the olfactory nasal cavity.
Early research showed promise that the pressure olfactory device or POD would deliver the right dose of medicine in rats. But Ho's team needed the money to expand their research into primates. For that, they applied for what is called the Ignition-Primate pilot grant of $100,000. As one crucial step, the pilot helped leverage much larger investments, including money from the Department of Defense, the National Institutes of Mental Health and the Life Sciences Discovery Fund of the state of Washington.  In total, there was about $1.5 million of public money granted to the project.
"There is a funding gap," Ho explained, in the traditional academic research pipeline. Many grants are for discoveries, but don't include money for proving reproducibility and the robustness of a device. The ITHS grant was pivotal for his team because they needed primate data to prove the device would work effectively in a near-human model organism.
Ho and his research partners have had enough success that they are deep into the commercialization of the POD through a private company they created, Impel Neuropharma. He has several patent applications pending. Clinical trials on human patients are underway.
Many different kinds of patients may benefit from a POD delivery for medicines. Patients with pain are one obvious group, who could benefit from relief that came directly to the brain without as many side effects in the rest of the body.  Other potential targets include patients with HIV/AIDS, Parkinson's, Alzheimer's and brain cancer.
The first human test with a drug intended for cancer pain is under way and waiting for the approval from the FDA to proceed.  Evaluation of insulin in POD for Alzheimer's patients is not far behind.
Ho is a Distinguished Professor of Pharmaceutics and Director of the DNA Sequencing and Gene Analysis Center at University of Washington, Seattle. He also holds appointments in Clinical Pharmacology, Fred Hutch, and a number of UW centers: Center for AIDS and STD Research, the Center on Human Development and Disability, the Center for Ecogenetics and Environmental Health, and the Washington National Primate Research Center.
As part of his work, Ho gives back to the ITHS by serving on the Drug and Device Advisory Committee. He provides coaching to other researchers who are interested in starting companies. Many aspects of bringing a device to the marketplace require advice from an experienced coach, he explained.
Seattle is in a great location to translate your innovations into great products , he said, because many national leaders in pharmaceutical industry have chosen to retire in the Puget Sound region. He sees that brain trust as a resource to himself and others.
Additional details on science:
Anesthesia and Analgesia, September, 2011
Video lecture by Rodney Ho as part of C4C series on UW presidential entrepreneurial fellowship recognition : "High on UW Start-ups: Fueling Innovations in a New Climate of Entrepreneurship," Nov., 2011.
The project described was supported by the National Center for Research Resources and the National Center for Advancing Translational Sciences, National Institutes of Health, through Grant UL1RR025014. The content is solely the responsibility of the authors and does not necessarily represent the official views of the NIH.