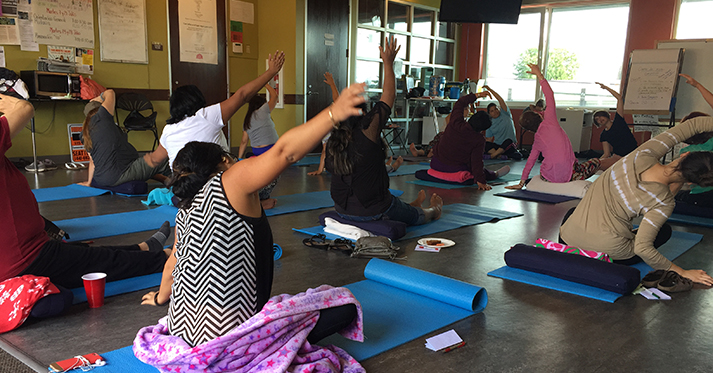 ALMA participants practice yoga at Casa Latina.
12 Nov

Improving Depression Outcomes in Latino Communities

Dr. India Ornelas, an Institute of Translational Health Sciences KL2 Scholar and Assistant Professor in the University of Washington School of Public Health, has been working with Latino communities since college. A third-generation Mexican-American, Ornelas is passionate about addressing public health issues and reducing health disparities in these communities.

Recently, Ornelas' work has focused on depression and alcohol use in Latino immigrants. "Latino immigrants experience a lot of stressors," she said. "We've learned over time that this often shows up as depression in women. One of the unhealthy ways that Latino men cope with stress is through alcohol use. It makes sense to focus on those problems because that's where we see it first."

She is currently working on two feasibility studies that address these issues. The first is Amigas Latinas Motivando el ALMA (ALMA), which translates to Latina Friends Motivating the Soul.

The ALMA program aims to use mindfulness and yoga techniques to reduce anxiety and depression symptoms among Latina immigrant mothers. "Yoga and mindfulness have increasingly been shown to help with depression," Ornelas said. "They're also strategies that these women don't have a lot of access to."

Ornelas added that another goal of the program is to promote self-care. "We know that women living with high levels of depression often don't find a therapist or seek counseling. We're trying to promote strategies we know the woman can do themselves."

Following a successful pilot of ALMA at Casa Latina, a Seattle-based non-profit that works with the Latino community, Ornelas applied in October for a call for proposals from NCCIH to conduct clinical trials of mind and body interventions. She plans to test and refine an eight-week curriculum, as well as to evaluate the feasibility of the program, in randomized trials at two community sites.
We know we may not get men to quit drinking altogether. But maybe we can get them to drink in ways where there are fewer consequences and it's less harmful to their health.
The second study is Vida PURA (Puede Usted Reducir su Consumo de Alcohol) (Pure Life: You Can Reduce Your Alcohol Use), which focuses on reducing unhealthy alcohol use for Latino day laborers. This project is funded by the National Institute on Alcohol Abuse and Alcoholism (NIAAA).
Alcohol is one of the unhealthy ways Latino men cope with stress. Rates of binge drinking among Latino men range from 44 to 58 percent, according to Ornelas. "It's a harm reduction approach," she said. "We know we may not get men to quit drinking altogether. But maybe we can get them to drink in ways where there are fewer consequences and it's less harmful to their health."
The first step of the intervention is to show them how much they're drinking and explain the drinking guidelines set by the NIAAA. "A lot of these men didn't know their levels of drinking were unhealthy," Ornelas said.
Spanish-speaking promotores (community health workers) then use motivational interviewing to discuss the pros and cons of drinking. The promotores help the participants "see any discrepancy between what their values are and their drinking," Ornelas explained.
Promotores then work with the participants to create a plan. "For a lot of the men, it's the first time anyone has sat down with them and talked about any health issue," Ornelas said. "They feel really grateful and appreciative of someone taking the time to talk to them."
Like ALMA, the goal of the current Vida PURA study is testing feasibility. When the NIAAA grant ends in 2017, Ornelas plans to apply for an NIH Research Project Grant (R01).
Ornelas has been supported by ITHS as a KL2 Scholar throughout this research. The ITHS KL2 is a multi-disciplinary program of up to three years in length that provides in-depth training in a specific area of translational research. The program also provides a breadth of training about the full spectrum of clinical investigation.
In October, Ornelas presented at the KL2 seminar, a weekly session that allow scholars to present their ideas and work to peers. KL2 scholars asked questions ranging from study design to the size of the Latino community in Seattle. Ornelas said the peer feedback has been helpful to furthering her research. "I learn from hearing about the other scholars' work and look forward to their questions when I present," she added.