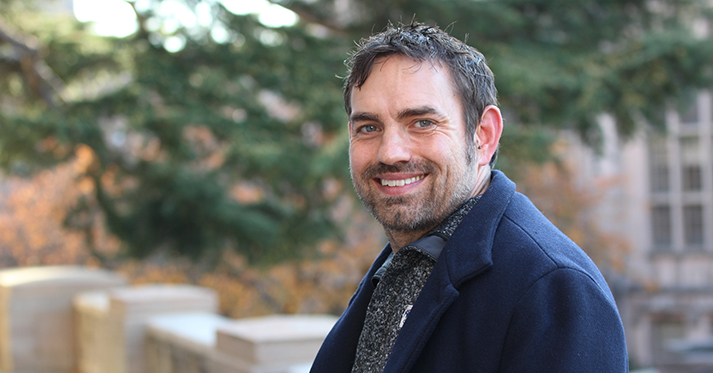 15 Feb

ITHS Interview Profile: Connecting Multi-Disciplinary Teams with Charlie Gregor

The ITHS interview series is meant to shine a deserving spotlight on individuals who are doing critical but sometimes invisible work across the vast spectrum of translational science. In our February installment of this series we sat down with Charlie Gregor, manager of the ITHS Hub Liaison Team and the Network Capacity Component. Gregor is also the co-chair of the ITHS Anti-Racism Committee.

Led by Drs. Chris Goss and Ann Melvin, the ITHS Hub Liaison Team is a multidisciplinary team of subject matter experts spread across the multiple research and research support groups at University of Washington and Seattle Children's Hospital. The team's name derives from its membership in the Clinical and Translational Science Awards program's Trial Innovation Network, which supports multisite research projects. While supporting Trial Innovation Network projects, the team developed and maintains the ITHS Recruitment Support Service, providing participant recruitment and retention consultation to research teams in the Pacific Northwest. Recently, the team expanded its support of translational endeavors by providing clinical trial management for funded research from implementation through study closeout and dissemination.

What is your role at ITHS?

CG: I am currently the manager of the Hub Liaison Team and the Network Capacity Component of the ITHS. The Hub Liaison Team is made up of approximately 25 subject matter experts spread across the University of Washington and Seattle Children's Hospital. We are always working on high-level or institutional interventions that can be implemented at research institutions across WWAMI. I work with ITHS faculty to develop projects that will meet our long-term program objectives and create a team of exceptional subject matters experts and leaders. My job, essentially, is to allocate and obtain the necessary resources and collaborate with project leaders to bring these projects to fruition. Our newest initiative is the Remote Technologies for Research Reference Center (REMOTECH) that is working to ease the deployment of remote study assessments, decreasing barriers for research participants and researchers while maintaining standards of compliance, respect, and science.
Our ultimate measure of success is whether the researchers and collaborators remain with us after they conclude their current projects.
What is the Network Capacity Component?
CG: The Network Capacity component helps researchers in three ways. First, we coordinate the ITHS engagement with the Clinical and Translational Science Awards program's initiatives like the Trial Innovation Network coordination centers and the networks local research teams, the National COVID Cohort Collaborative, and other NCATS endorsed informatics endeavors.
Second, we engage with research teams on their challenges related to participant recruitment and retention in research studies and provide clinical trial management on recently funded studies.
Third, we identify slow-downs and institutional-wide challenges, and we work to decrease the burden of research. Previously, our team supported the implementation of the Single IRB policy and assisted the UW as it initiated Single IRB services for UW investigators. We also created REMOTECH to promote the use of remote technologies in research across WWAMI.
One of the things I like about working at ITHS is getting to work with faculty and staff in the beginning of their research careers. It is deeply fulfilling to successfully conclude a project, knowing that the individuals with whom we collaborated have benefited from our work and will take something to pass onto those that come after them.
How did you select your current field of work?
CG: I graduated with a bachelor's degree in communications and accounting in the early 2000s and began working in smaller nonprofit organizations managing finance and business. The accounting field provided me with the opportunity to understand the outcomes of our decisions based on data, which I found really appealing. Aside from that, I also had a keen interest in the medical field, specifically in the study of infectious diseases. After my undergraduate program, I enrolled in education that allowed me to dip my toe into the medical field by becoming a certified EMT.
My transition to health care began with my first exposure to the medical field through Red Cross volunteering opportunities. As I was learning about this field, I shadowed numerous professionals and researched a number of programs. This ultimately led me to graduate with a master's degree in public health focused on environmental health and infectious disease studies from the University of Minnesota.
My interest in infectious diseases had a lot to do with the intersection of cost, policy, and politics. Within the infectious diseases field, I was particularly interested in learning about the impact of HIV in our community and the stigma around it at an individual and a community level, as well as how that played into public policy.
Medical approaches to diseases such as malaria, HIV, and even COVID are tangled up in politics, religion, and morality as it is with science.
Tell us about your journey to ITHS.
CG: I began my career in public health as a research coordinator at the LGBTQ health center, Fenway Health in Boston. My work involved HIV-related studies that focused on HIV vaccine protocols and clinical trial management for post-exposure prophylaxis (PEP). During my tenure at Fenway, my responsibilities extended beyond the parameters of infectious disease. I was able to provide support by facilitating discussions on various subjects including relationship dynamics, gender roles, prejudice, and discrimination.
My experience at Fenway Health paved the way for my subsequent appointment as a clinical trials manager with the HIV Vaccine Trials Network (HVTN) at the Fred Hutchinson Cancer Center in Seattle. By this time, the trials network was expanding from domestic studies to international studies focusing on Southern and Eastern Africa. We established connections with already existing clinics in South Africa, Mozambique, Tanzania, Malawi, and Zimbabwe. My assignment was to develop a site-readiness plan and facilitate the readiness of the sites in this region to join the HVTN and participate in rigorous Division of AIDS HIV vaccine Protocols.
Throughout this work, I had the privilege of meeting and working with many incredible people. I spent some time at the Seattle Cancer Care Alliance working on oncology studies where I gained experience working with non-infectious diseases and patients at the end of their life. From there, I began my journey with ITHS in 2018.
What unique challenges have you faced throughout this journey?
One of the biggest challenges I faced is trying to navigate the difference between those who work on the ground and the expectations of the funding organizations.
CG: Most U.S based research is funded by the federal government and flows through large institutions that wield a lot of power. I saw major differences in the availability of economic resources that led to significant differences in priorities and perspectives by working at both research sites within and outside of large systems and at coordinating centers that served large urban institutions and community-based rural research sites.
What is one thing you're looking forward to in the next year at ITHS?
CG: Healthcare, and by extension clinical research, was thrust toward telemedicine solutions and remote study assessments with the COVID stay-at-home orders. For decades healthcare workers and researchers had the support of their institution's compliance offices and governance bodies to develop policies, processes, and training to conduct in-person research that is compliant with regulations, institutional policy, and best practices. This institutional support nearly evaporates when researchers take their research remote.
We are thrilled to be launching The Remote Technologies for Research Reference Center, to help researchers incorporate remote technology into their studies. Remote technologies are defined as any tool or mechanism a researcher might use with a study participant that does not require the study team and participant to be in the same physical location at the same time or that requires the participant to be in a medical facility.
REMOTECH is currently wrapping up the analysis from our 2022 environmental scan and we will be sharing our insights and solutions through the REMOTECH Knowledge Center beginning this year.
It is really just another example of how ITHS supports research innovation in every form, and we are thrilled to see this project come to life.
All photos courtesy of Charlie Gregor. Interview by Mihila Gomes. If you have a story suggestion for the ITHS Interview Profile series, please send your ideas to Lisa Stromme Warren.