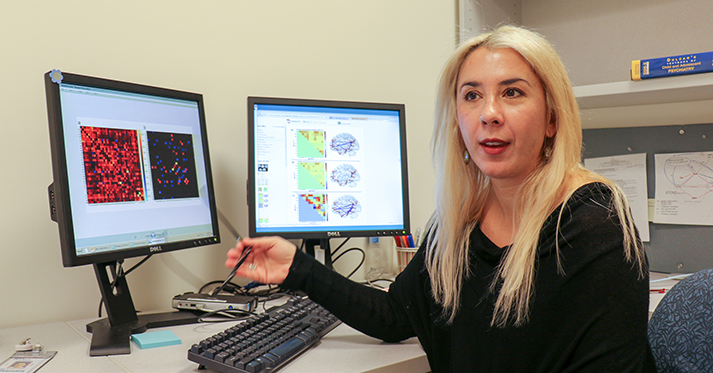 Nina de Lacy, MD, MBA, discusses her proposed KL2 research project.
19 Jan

ITHS Names Three Promising Investigators to KL2 Training Program

Early-career biomedical investigators face numerous challenges when trying to become independently established in the field of clinical and translational research. Mitigating two of the biggest challenges to becoming established—dedicated research time and research funding—is the goal of the Institute of Translational Health Sciences' KL2 Multidisciplinary Clinical Research Career Development Program, which recently accepted its newest cohort of three KL2 scholars.

On July 1, 2016, each of these early-career University of Washington investigators will begin three years of rigorous training in an interdisciplinary cohort environment. During this time, ITHS will pay 75 percent of each investigator's salary so they can pursue their individual research goals, with additional support of research funds up to $25,000 per year.

The three investigators who were selected as the newest cohort of KL2 scholars possess a range of interests that span the research spectrum:
Dr. Nina de Lacy, Fellow in the UW Division of Child and Adolescent Psychiatry and Psychiatrist at Seattle Children's, who will focus her research on innovative computational approaches to define subtypes, biomarkers, and mechanisms in autism.
Dr. Eri Nakatani-Webster, Research Associate in the UW Department of Medicinal Chemistry, who will seek to increase the understanding of protein self-assembly relating to infectious disease, particularly biofilm formation and mechanisms of antibiotic resistance.
Dr. Matthew B. Rivara, Clinical Research Fellow and Acting Instructor in the UW Division of Nephrology, who will study symptom assessment and novel biomarkers in advanced kidney disease.
"I'm thrilled to be selected as a KL2 scholar," shared Rivara. "This award will allow me to focus on research exploring new ways to accurately assess symptoms in patients with kidney disease and how to incorporate information on symptoms into clinical decision-making."
The KL2 program is funded by the National Institutes of Health through ITHS' grant with the National Center for Advancing Translational Sciences. ITHS KL2 scholars receive an intensive mentored experience in a specific area of research, while also gaining knowledge of the full spectrum of clinical research. The program encourages a range of investigation, including patient-oriented research, translational research, small- and large-scale clinical studies and trials, epidemiologic and natural history studies, health services research, and health behavior research.
"Each of these three investigators have demonstrated great potential in their areas of research," explained Dr. Mary L. (Nora) Disis, Principal Investigator of ITHS and Associate Dean for Translational Science in the University of Washington School of Medicine. "We believe the KL2 program will be that final boost they need to fully mature as independently-funded investigators who can help spearhead the next generation of clinical and translational research discoveries."
Please visit the ITHS KL2 web page to learn more about this career development program or these scholars.