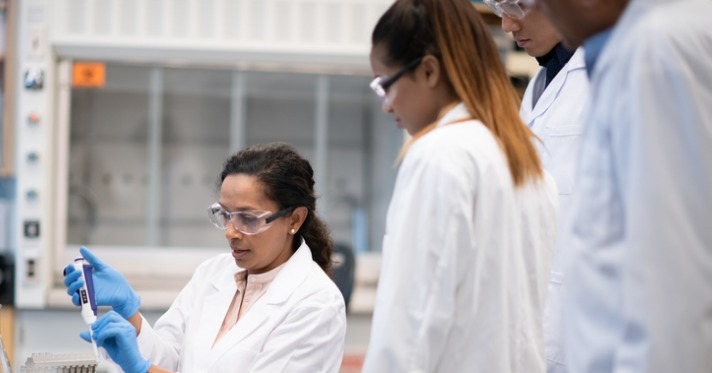 27 Apr

Meet the New Scholars for the 2022 KL2 Program

The Institute of Translational Health Sciences is proud to announce its new cohort of scholars for the 2022 ITHS KL2 Multidisciplinary Clinical Research Career Development Program: Brittany Blanchard, Julie Crudele, and Kristopher Kerns. Candidates are selected from a large group of highly qualified junior faculty applicants.

Sponsored by the National Center for Advancing Translational Sciences (NCATS), the KL2 program provides research time, funding, mentorship, and other necessary resources to foster postdoctoral or early career development of clinical and translational researchers. The new scholars will join the diverse ITHS KL2 cohort for a curriculum designed to provide support and dedication of an individualized program with the benefits of multi-disciplinary cohort to build on translational knowledge.
We are excited to cheer on the new 2022 KL2 scholars:
Dr. Brittany Blanchard currently works as an Acting Assistant Professor in the Department of Psychiatry and Behavioral Sciences and the Director of the Division of Population Health Analytics Team at the University of Washington. She has training in clinical psychology with research interests in harm reduction and measurement-based care.
Dr. Blanchard plans to leverage the KL2 award to support her research with the Washington, Wyoming, Alaska, Montana, Idaho (WWAMI)-region Practice and Research Network (WPRN) to adapt a harm reduction intervention for people who use stimulants and/or opioids to be delivered in integrated care settings. By collaborating with WPRN clinicians and using a novel human-centered design methodology to adapt the intervention, she hopes to develop a usable intervention ready for testing in a hybrid effectiveness-implementation trial.
Dr. Julie Crudele is an Acting Assistant Professor at the University of Washington School of Medicine, Department of Neurology. She develops AAV gene therapies for muscular dystrophies and myopathies, with a focus on maximizing therapeutic gene expression and immunological safety.
With support from the KL2, Dr. Crudele plans to develop a novel gene therapy for GNE myopathy and move it from bench to bedside. In doing so, she also aims to create and advance new gene therapy components and approaches that can be broadly applied to the gene therapy field.
Dr. Crudele's career goal is to transfer AAV gene therapies from the research lab to the clinic. The KL2 award will help fund the development of one such gene therapy.
Dr. Kristopher Kerns is a Postdoctoral Research Fellow at the University of Washington School of Dentistry. He is also an alumnus of the ITHS TL1 program. He applies his expertise as a systems biologist to study the oral microbiome and microbial-host interactions within the Oral Health field. In addition, Dr. Kerns works on translational research designed to alleviate oral health disparities that disproportionately affect women and children.
Dr. Kern's long-term career goals include integrating different tiers of knowledge and methodologies to identify individuals' Inflammatory Response Type (IRT) and risk of oral diseases such as Periodontal Disease (PD) and Oral Squamous Cell Carcinoma (OSCC) of the Tongue.
He intends to use support from the KL2 award to reveal novel and personalized therapeutic targets to prevent and treat oral inflammatory related conditions. Dr. Kerns anticipates his research findings will immediately translate to optimize the standard of care for OSCC of the Tongue and Periodontal disease based on an individual's responder types (IRTs).
ITHS congratulates each scholar for their great achievement and look forward to supporting their clinical and translational science projects throughout the next three years.