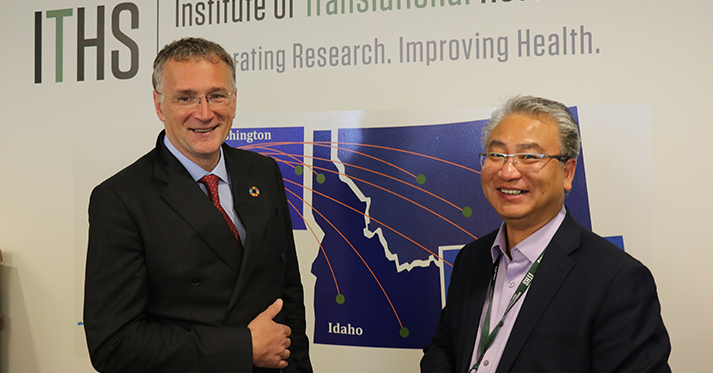 24 Jun

President Designate of European Research Council Visits ITHS

Dr. Mauro Ferrari stands out in a crowd, in both the literal and figurative sense. On Monday morning, ITHS staff enjoyed a visit from Dr. Ferrari, and gathered when we saw his tall and elegant frame across the office. We were lucky to have him visit with us, as he is the former boss of our new Executive Director, Tong Sun. Dr. Ferrari also happens to be the President Designate of the European Union's European Research Council (ERC), due to start his term in January 2020.

Since Dr. Ferrari and Mr. Sun are old friends, the visit was casual. Dr. Ferrari was very approachable and charismatic. He chatted with us about our work, music, sports and about learning new languages. In his new role with the ERC, a strong grasp of French, German, and Spanish is appreciated. He is already multi-lingual, but he will need tutors to gain fluency in all three languages. He added, "I accepted with one condition: that I also be taught Friulian," the language spoken in Friuli, the town in Italy where he grew up. Friulian is an Italian dialect that is in danger of extinction. Learning it anew is a way to preserve its longevity and survival. A fair request and even more, a gesture that perfectly captures Dr. Ferrari's altruistic personality.

His visit to ITHS's offices was a brief stop on his way to a talk held at the University of Washington's School of Pharmacy where he would speak about his "twenty-eight years of failures." After listening to the story of his career-long objective of finding a cure for metastatic cancer, it was hard to see how he had failed given all his extraordinary accomplishments. He even had a successful career as a college basketball player, not to mention, he is a talented musician and still plays the saxophone in a few jazz bands. It was an incredible experience to listen to Dr. Ferrari, a man of such diverse talents, share his stories.

However, his background in science has always been his main pillar. Investigators arrive at their specializations for various reasons, and these reasons fuel them as they face setbacks and failures in the course of their research. We learned that what propelled Dr. Ferarri's scientific research was personal tragedy. It was when he lost his first wife to cancer that he decided to investigate the ways in which the treatments she was given failed to save her. Dr. Ferrari entered medical school, and then directed his new knowledge and his previous training as an engineer to understand how to improve the efficacy and delivery of cancer drugs and vaccines. He has never stopped making strides towards this goal and it is evident, no challenge or failure can sway him from it.

Dr. Ferrari's career has been a long and varied one, from his time as a researcher and professor of internal medicine, biomedical engineering and nanomedicine; to chairing his department at the University of Texas Health Science Center; to serving as president, CEO of Houston Methodist Research Institute, Executive Vice President and Chief Commercialization Officer at Houston Methodist Hospital System. He has published hundreds of papers and seven books, received a number of patents, founded several academic programs, and led research centers to success. He has always maintained a focus on finding talent and resources in unexpected places. Developing degree programs for new students whose social circumstances and lack of resources would otherwise have kept them from finding their potential in the sciences has been one of Dr. Ferrari's most fulfilling achievements.

It is no surprise that a man with his versatile background would be selected to such an important role as President of the European Research Council. This organization is dedicated to encouraging the highest quality research in Europe and to supporting investigator-driven frontier research across all fields. Everything Dr. Ferrari has done throughout his career has led him to this outstanding role. His skills, knowledge and charisma, along with his multi-disciplinary vision will bring great value to the ERC and help carry out the council's goal of improving society by supporting the best scientific research. What an honor and inspiration it was for ITHS to be visited by a man of his stature. We wish him the best of luck in his new endeavor.