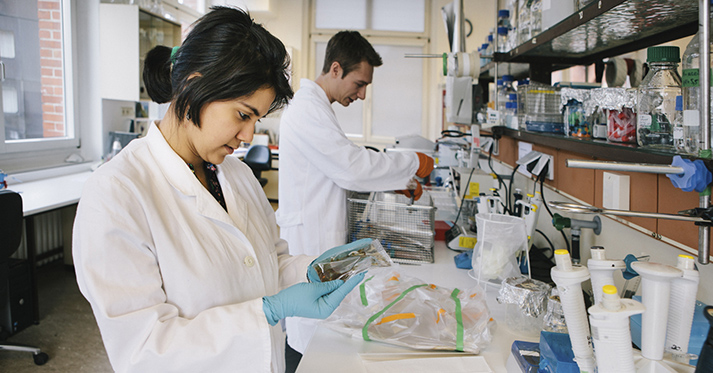 02 Jun

Three UW Research Teams Awarded ITHS Collaboration Innovation Awards

The Institute of Translational Health Sciences has awarded three, one-year $50,000 Collaboration Innovation Awards to University of Washington research teams. The awards support development of new interdisciplinary collaborations between investigators in projects addressing critical transitions in translational research.

The winning proposals represent either a new project or new research direction for the principal investigator and will provide research teams with the preliminary data needed to seek outside funding.
Awardees
This year's Collaboration Innovation Awards were awarded to research teams led by the following investigators:
PI: Dr. Deok-Ho Kim, Assistant Professor in the UW Department of Bioengineering
Co-PI: Dr. Charles Murry, Professor in the UW Department of Pathology
Drs. Kim and Murry propose to develop an electrophysiological screening method for stem cell-derived cardiomyocytes to determine their suitability for use in cell replacement therapy in damaged hearts. This project will help drive stem cell-based cell replacement therapies towards the clinic, as well as enabling the development of a powerful preclinical screening tool for evaluating the cardiotoxic potential of new drugs.
PI: Dr. Suzanne Dintzis, Associate Professor in the UW Department of Pathology
Co-PI: Dr. Jonathan Liu, Assistant Professor in the UW Department of Mechanical Engineering
Drs. Dintzis and Liu aim to improve the accuracy of estrogen and Her2 receptor testing in breast cancer using fluorescent quantum dots and tissue microarrays. Accurate and reproducible measurement of critical biomarkers will allow personalized and tailored therapy and help lead to improved patient outcomes.
PI: Dr.
Chistoph P. Hofstetter
, Assistant Professor in the UW Department of Neurological Surgery
Co-PI: Dr.
Buddy Ratner
, Professor in the UW Department of Bioengineering
Drs. Hofstetter and Ratner aim to develop tissue-engineered 3D scaffolds that would promote neuronal regeneration after spinal cord injuries. The scaffolds would promote neuro-regeneration and healing by altering macrophage and microglia phenotypes.
Catalyzing Discoveries
"We are thrilled to be the catalyst for these new investigator collaborations," said Dr. Mary L. (Nora) Disis, Principal Investigator of ITHS and Associate Dean for Translational Science in the UW School of Medicine. "These collaborations will accelerate the pace of scientific discovery by bringing together the different perspectives and resources needed to solve a range of complex problems. We look forward to seeing the results generated by these promising new interdisciplinary collaborations."
"For me, this award means hope for a better treatments for my patients," shared awardee Christoph Hofstetter. "Bringing together the world of engineering and medicine has been one of the biggest success stories of mankind, and I have no doubt that regenerative neurosurgery will be any different. We are extremely excited about the opportunity to carry out these experiments."
Visit the ITHS Funding Opportunities page to learn more about the Collaboration Innovation Awards and other funding opportunities.