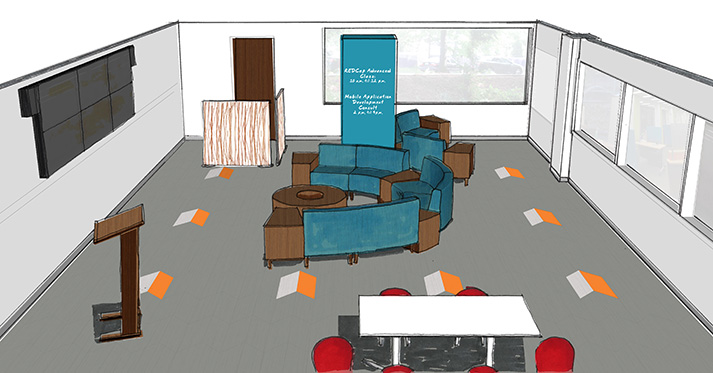 30 Jan

TRAIL Offers New Space and Resources to Researchers

Researchers now have a new resource to help them accelerate their discoveries from the bench to the bedside. The best part? They can find it in UW's Health Science Library.

Located on the lower level of the library, the Idea Incubator Space is equipped with the latest technology and data management resources. The room's main attraction is a large data wall, three televisions wide and two televisions tall, that can be used together or separately to display information for an audience. The room also features an Amazon Echo, whiteboards, modular sofas, and a camera for video conferencing.

The Idea Incubator Space is part of the larger Translational Research and Information Lab (TRAIL), a collaboration of experts in data management and visualization that aim to accelerate healthcare research through tools, team science, and applications.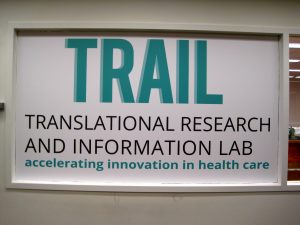 In addition to using the Idea Incubator Space, researchers can tap into the multidisciplinary expertise available through TRAIL. Experts from the UW, ITHS, and Health Sciences Library will be available to provide consultations on research data management tools like REDCap, data visualization tools such as Tableau, and other research tools.
"TRAIL brings cutting-edge research solutions into the library, where they are more accessible to researchers," said ITHS computer specialist Bas de Veer, who provides REDCap consultations in the Idea Incubator Space. "This collaboration will help researchers access these tools in a faster and more collaborative way."
TRAIL is a partnership between the Institute of Translational Health Sciences, the University of Washington Health Sciences Library, UW Medicine Research Information Technology., and the National Network of Libraries of Medicine – Pacific Northwest Region.
"TRAIL is going to help define what success or failure might look like before launching a project by connecting new investigators to the campus support services, collaborators, and biomedical literature," said Tania Bardyn, MLIS, AHIP, Associate Dean of University Libraries, Director of the Health Sciences Library Director, National Network of Libraries of Medicine (NN/LM) Pacific Northwest Region (PNR). "There is no doubt, that through this partnership we are building a premier health sciences library of the future at UW. It is going to change how investigators envision using health sciences libraries to conduct multidisciplinary research."
"TRAIL is more than a room," said Carlos De La Peña, Executive Director of ITHS. "This is an opportunity to promote team science and collaboration through utilization of the Idea Incubator Space and TRAIL services."
Visit the UW Health Sciences Library website for more information about TRAIL and how to rent the Idea Incubator Space.