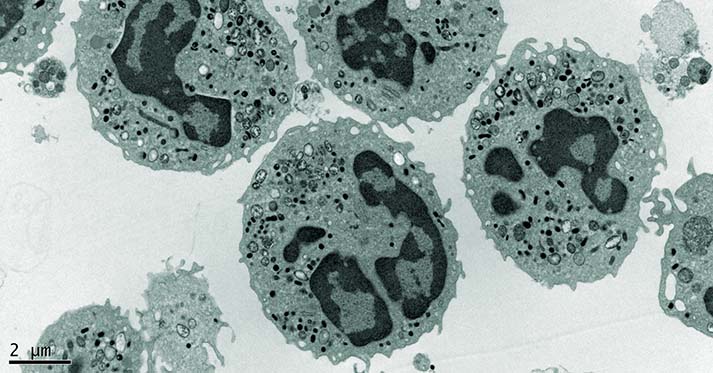 27 Sep

Treating Chronic Neutropenia—and More Along the Way

Neutrophils are an important type of white blood cell and our bodies' first line of defense against infection. Neutropenia is a condition in which a patient has a deficiency of infection-fighting neutrophils. This condition can be either congenital or acquired. Dr. David Dale, MD, UW professor of medicine and former dean of the School of Medicine, has studied neutropenia and how the agent granulocyte colony-stimulating factor (G-CSF) can be used to stimulate neutrophil production.

Throughout his career working with neutropenia, Dr. Dale has seen G-CSF grow into "one of the most important products of modern biotechnology." Dr. Dale has spent decades working with fellow researchers at the University of Washington studying neutrophils and inflammation – and new drugs that affect inflammation or neutrophil function deployment. The first patient to use G-CSF therapy as a long-term treatment for chronic neutropenia was a clinical trial participant from the late 1980s at the UWMC, in what is now the Translational Research Unit (TRU). Now G-CSF is used globally to treat neutropenia, which it turns out is a common side effect in chemotherapy, making G-CSF an essential part of many cancer treatment plans.

While G-CSF treatment has been successful with certain types of neutropenia, Dr. Dale is currently studying WHIM syndrome, in which G-CSF treatment alone is inadequate. WHIM Syndrome is a rare disease in which a patient's immune cells cannot properly mobilize into the body. "We have used this G-CSF drug for these patients and it helps them some, but not enough" says Dr. Dale, who has just begun a clinical trial at the TRU using a new drug to treat WHIM Syndrome. Developing new drugs from scratch can be a very long process; especially to a person with an untreatable disease. When research is successful, it can help make a difference in a person's life – which is why Dr. Dale is constantly searching for better ways to get new treatments to the patients who need it most.

A few years ago, a drug company was working to develop a treatment for human immunodeficiency virus (HIV). Through their drug development, however, they noticed the new product had a greater impact on white blood cell count than fighting the virus. The company then approached Dr. Dale, who is a well known expert in this area, to see if the new drug could be effective for any of the diseases he was researching. The data was enough to pique Dr. Dale's interest, and so he embarked on another study at the TRU. Through this study, it was found that this new drug, plerixafor, could mobilize certain cells to help enable stem cell harvesting and transplants.
Drug development is like building a pyramid, one block rests on another.
In fact, according to Dr. Dale, it turned out to be the most effective mobilizer of hematopoietic stem cells that has yet to be found and is used all over the world in cancer treatment. Since the drug had already undergone certain approvals in the HIV space, the path to regulatory approval and commercialization was very quick and much less expensive than if the drug were brand new.
Part of the ITHS mission is to accelerate the process of translating research from scientific discovery to benefiting the health of the community. An important part of that is taking a closer look at the capabilities of existing drugs to help more people with unique and challenging conditions. Dr. Dale realized there was an interesting intersection between WHIM syndrome and plerixafor. Patients with WHIM syndrome are able to make neutrophils (white blood cells) in their bone marrow, but they are not able to move them from the bone marrow to the rest of the body where they are needed. As a cell mobilizer, plerixafor demonstrated potential to help enable the neutrophils to leave the bone marrow and access the rest of the body.
Currently, a more convenient oral form of this drug is being studied in research participants at the TRU; and so far it has shown excellent results. "This new drug, it's an amazing drug for stem cell mobilization. I think it's going to be an effective drug for WHIM Syndrome" reported Dr. Dale, "And I'm interested in both!" For Dr. Dale, there is added excitement when the scope of a drug's efficacy broadens to include larger patient populations and more treatment for more diseases. The goal is to build upon the research and efficacy of the work that came before. Drug development is like building a pyramid, he says "one block rests on another."