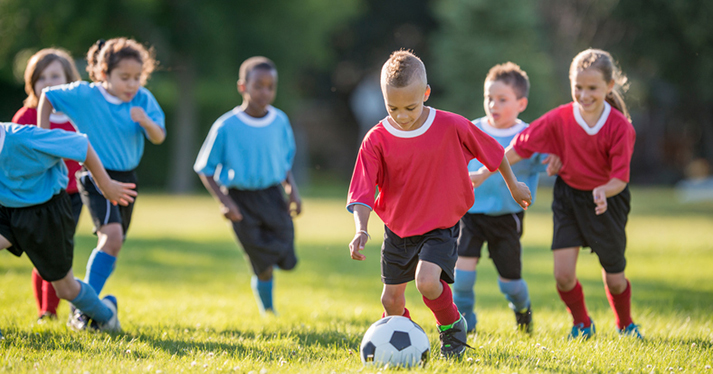 Taking a 'Collaborative Care' Approach to Kids' Concussion Recovery
A collaborative care approach that includes both medical care coordination and cognitive behavioral therapy may help reduce anxiety and depression in adolescents with persistent post-concussive symptoms, according to a new study from the Seattle Sports Concussion Research Collaborative at Seattle Children's.
While most children and adolescents typically recover from a sports-related concussion within two weeks, an estimated 13.7% of school-aged youth continue to experience symptoms at three months. Persistent post-concussive symptoms can include headaches, dizziness, and inattention. Depression and anxiety are also common.
Currently, there is no evidence-based treatment targeting children and adolescents. The standard care involves "watchful waiting and monitoring of symptoms over time with the idea of a gradual return to activity," said first author Cari A. McCarty, PhD, research professor in the Division of General Pediatrics, Department of Pediatrics at the University of Washington. "There hasn't been a lot of specific behavioral health guidance for patients on how to help themselves get better. That's the piece we developed for our study."
The randomized control trial included youth aged 11 to 17 who had 1 month or more of persistent sports-related post-concussive symptoms. Researchers randomly assigned participants to collaborative care (n = 25) or usual care (n = 24).
The collaborative care intervention model integrated cognitive behavioral therapy, continuous care management, and psychopharmacological consultation, if needed. CBT focused on teaching coping skills, relaxation strategies, and positive thinking. A care manager was also assigned to each patient and served as an advocate in both the healthcare system and school settings. A pediatric psychopharmacology expert was consulted if symptoms did not respond to therapy. One third of patients received medication.
In the first three months, post-concussive symptoms improved in both groups. At that point, improvement plateaued for the control group, while the intervention group continued to improve. Six months after the baseline assessment, 13.0% of intervention patients continued to report high levels of post-concussive symptoms, compared to 41.7% of usual care patients. And, 78% of intervention patients reported a 50% or more reduction in depression symptoms, compared to 45.8% of usual care patients.
McCarty and her research team worked with ITHS REDCap consultant Bas de Veer to create participant surveys and a database for study data. "We had a quick turnaround time from getting IRB approval to wanting to initiate our recruitment," said Tina Schwien, program manager at the Seattle Pediatric Concussion Research Collaborative. "Bas provided us with consultation and guidance around the design, as well as providing the actual build itself in a very efficient manner."
McCarty and her team recently received an R01 grant from the National Institute of Health to launch a new study with 200 participants. "Detection of concussions has increased so much in the last decade," McCarty said. "People are no longer taking concussions lately. They are aware that it's a problem, and now we need to have treatments to help patients get better."