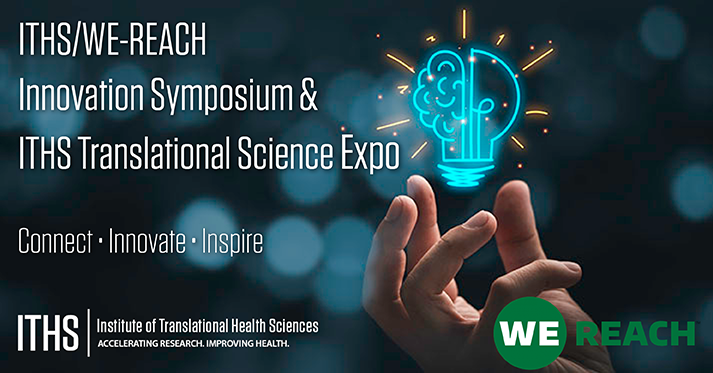 11 Aug

ITHS/WE-REACH Innovation Symposium & ITHS Translational Science Expo

Posted on August 11, 2022 @ 9:13am

in

When:

September 30, 2022 @ 2:45 pm – 6:45 pm

America/Los Angeles Timezone

2022-09-30T14:45:00-07:00

2022-09-30T18:45:00-07:00

Where:

Burke Museum of Natural History and Culture
4300 15th Ave NE
Seattle
WA 98105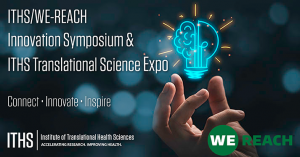 ITHS/WE-REACH Innovation Symposium & ITHS Translational Science Expo
How do you translate innovations from great ideas to successful medicine? This year's symposium and expo will help answer that question in a multifaceted celebration of process, perseverance, and accomplishment.
On Friday, September 30th, the Institute of Translational Health Sciences will host the annual Translational Science Expo at the University of Washington's Burke Museum. This gathering is an opportunity for ITHS-supported researchers from Seattle and across Washington, Wyoming, Alaska, Montana, and Idaho to share their work, network, and learn from colleagues at every stage of the translational science journey.
This year's event will include both a symposium and the traditional poster session. The symposium will feature keynote speakers on the topic of "From Discovery to Life-Changing Medicine," followed by a panel of local entrepreneurs who will discuss translating and commercializing their discoveries. The evening will conclude with the poster session, which will spotlight the work of ITHS KL2 Scholars, TL1 Trainees and Pilot award winners, and give everyone the chance to connect and network. 
For more information and to register, please visit the Translational Science Expo 2022 website.
Learn more and register