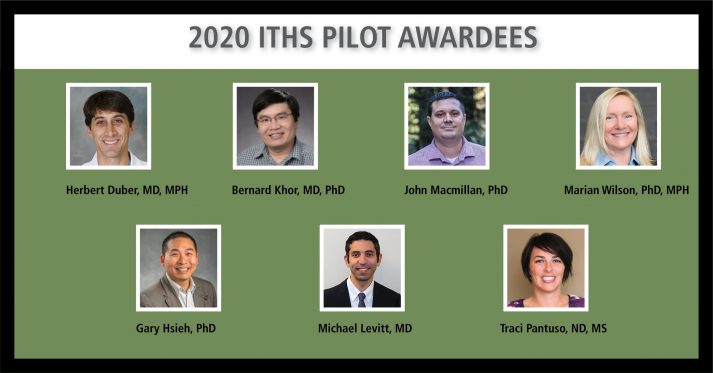 12 Feb

2020 Pilot Awardees

The Institute of Translational Health Sciences is proud to announce the 2020 Pilot Award recipients. Pilot funding allows investigators to obtain preliminary data in order to establish a proof of concept and seek larger funding amounts. The 2020 ITHS pilot cohort is an impressive group whose diverse research spans the entire translational science spectrum, from basic research to public health. "These investigators hail from five research institutions and are expanding knowledge in the fields of opioid use disorders, genetics, bioinformatics, bioengineering, neurobiology, and diabetes. ITHS has high expectations for these investigators and we cannot wait to see their accomplishments," shared Adam Davidson, Director of Program Operations.

The following are the 2020 awardees:
Research Innovation Award
This award supports specific clinical or translational research questions that can also act as a vehicle to develop new methods, policies, or procedures that will aid in the conduct of research.
Proposal: Genetic response to hemodynamic stress in cerebral aneurysms using 3D-printed models.
Collaboration Innovation Award
This award encourages the development of new interdisciplinary collaborations between investigators in projects addressing critical transitions in translational research.
Traci Pantuso, ND, MS & John Macmillan, PhD
Proposal: Translating High-Throughput Cytological Profiling and FuSiOn Platform Technology Data from the complex Oplopanax horridus extract into Basic Science and Pre-clinical Research Models.
Gary Hsieh, PhD & Herbert Duber, MD, MPH
Proposal: Feasibility of chatbot-facilitated social needs screening in the Emergency Department.
Academic/Community Partnership Award
This award encourages the development and support of collaborations between academic and community investigators. The proposed work focuses on a problem, issue, or intervention important to the community.
Community Partner: Spokane Regional Health District
Proposal: COMFORT: Community-engaged Options to Maximize and Facilitate Opioid Reduction through Treatment.
Translational Pilot Award, Special Emphasis: Diabetes
This award is offered in conjunction with the Diabetes Research Center and supports studies that address impactful research issues within the translational science spectrum, with the long-term goal of improving the health of patients with diabetes.
Proposal: Interrogating the effect of DYRK1A overexpression on inflammatory T cell differentiation in type 1 diabetes.