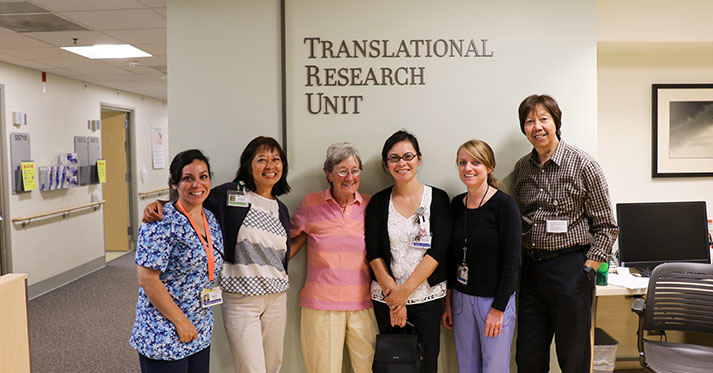 28 Jul

Celebrating Decades of Discovery at the TRU Open House

Nearly 100 people attended the open house for the ITHS Translational Research Unit (TRU) to celebrate innovative research and learn about the advantages of having a dedicated research environment. The open house was an opportunity for investigators and research teams to see firsthand the resources available to them. This is the only clinical unit at the University of Washington Medical Center (UWMC) dedicated entirely to research.

By providing the proper facilities and support, ITHS helps catalyze discoveries across the University of Washington and partner organizations. In addition to providing resources to investigators, an important part of the ITHS mission is helping research teams make connections among each other and find new efficiencies through events like this. Over the past several years, the TRU has supported 150 investigators in implementing over 350 protocols involving almost 7,000 research participants in studies which span 40 medical specialties. To highlight the innovation and diversity of TRU supported research, the open house featured a number of research study posters around the unit.

One of several investigators who attended the open house was Dr. David Dale, MD. Dr. Dale has been using the TRU to support his research on treating chronic neutropenia since it first opened. His current research involves a drug called Plerixafor, an effective mobilizer of hematopoietic stem cells. An oral version of the drug, called X4P001, is being tested at the TRU to verify the safety profile and pharmacokinetics of X4P001 in treating WHIM syndrome, a type of chronic neutropenia. This research along with other studies are currently on display at the TRU.

TRU facilities include a dedicated inpatient & outpatient rooms (10 beds), office and computer space for research teams, CLIA-certified lab processing room, meal services, and consultation rooms. The TRU staff who operate in these spaces work exclusively with translational research, and have specific expertise in immunotherapy studies, high-volume and/or serial, closely-timed blood draws, and pharmacokinetic studies. Services at the TRU are tailored to meet each study's needs and may involve full staff support or room-only use. Many investigators choose to utilize the unit because of the added safety in its proximity to the hospital.