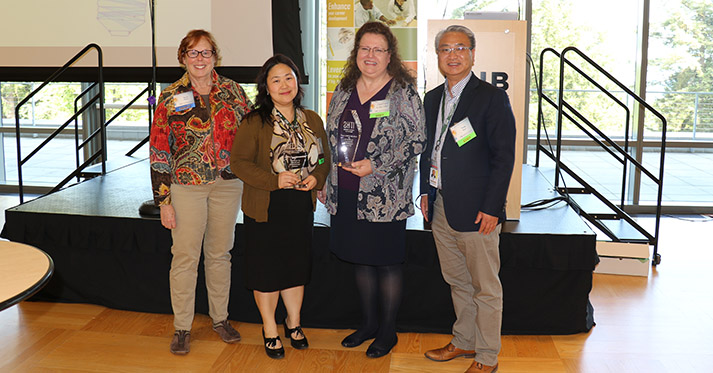 Nora Disis (ITHS PI) and Tong Sun (Executive Director) present the Carlos De La Peña Award for Excellence in Clinical & Translational Science
16 May

Celebrating the third annual ITHS Translational Science Expo

Medical advancement is the result of years of discovery, meticulous experimentation, and most importantly collaboration among experts. The Institute of Translational Health Science aims to accelerate these processes through infrastructure improvements, educational offerings, research support, and facilitating these vital connections among investigators and research teams.

Each year, ITHS celebrates this mission through the Translational Science Expo. This year, we welcomed over 100 scholars, trainees, students, investigators, and research staff to the Hub South Ballroom to share in their successes, learn from each other, and build a community among the clinical and translational researchers in the Pacific Northwest. This year's event attracted attendees from Idaho, Montana, and all across Washington State.

In addition to networking and discussing research through poster presentations, the Expo also included an award ceremony of the Carlos De La Peña Award for Excellence in Clinical & Translational Science. This award was created to honor a member of the ITHS community who have made a significant contribution to advancing translational science including a scientific discovery or a breakthrough or significant improvements to the research infrastructure and/or to the process of accelerating translational research at UW and among our partner organizations.

For the first time ever, this year the award was presented to two recipients:
Sandra Albritton MN, RN, CCRC, CHRC, Director of Research Programs and Student Services with Kootenai Health for her policy work in Idaho, moving a bill through state legislation which provides more comprehensive insurance coverage for participants in clinical trials
Hwayun "Hyacinth" Lee, PhD, RN, Clinical Research Manager of the Translational Research Unit for her management of the unit and dedication to patient safety, comfort, and research excellence
"Prior to the Affordable Care Act, most insurance would not pay for anything if a patient was enrolled in a research study," announced Dr. Nora Disis, ITHS Principal Investigator, as she presented the first award. Many insurers denied payment for standard procedures once a patient was enrolled in a research study, even if those procedures would have been covered otherwise, forcing the sponsor or the patient to pay. "This was a major barrier for research participation" continued Dr. Disis.
When the Affordable Care Act was passed, it required insurers to pay for standard of care costs for patients on clinical trials for 'life threatening diseases' but this 'life-threatening' language created a loophole. Sandra led a team to draft a bill, negotiate with legislators, and ensure this loophole was closed. The Idaho Senate Bill 1097, Coverage for Participants in Clinical Trials was signed into law this spring and will take effect on July 1, 2019.
"One of our ongoing goals at ITHS is to build new units and help them become self-sustaining," continued Dr. Disis as she transitioned to the second award, "In the past five years with ITHS, Hyacinth has nearly doubled the workflow and revenue of our Translational Research Unit, remodeled it for patient usability, and made sure it reflects the growing needs of conducting research within and beyond the UW medical center."
Hyacinth assures protocols are carried out correctly and with the utmost attention to patient safety, patient comfort, and hospital standards, often liaising between the complex environments of the medical center and ITHS.
Both recipients have upheld the ITHS mission through their work and have created a path that will benefit countless patients through improved access to research related care.