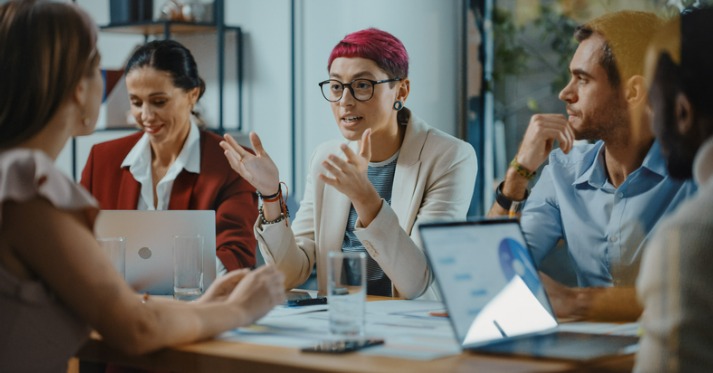 15 Sep

Improve Your Collaboration Skills with the New Team Science Seminar Series

ITHS is pleased to announce our new Team Science Seminar Series, a joint effort by our Team Science and Education cores to help early career researchers build the skills they need for effective scientific collaboration. The 10-part virtual series will be offered from 12:00 to 1:00 PM Pacific Time on the first Thursday of each month,  beginning with the October 6th event, "Introduction to the Team Science Seminar Series 2022-2023: Why is Team Science Important?" (see registration link below)

In recent years, it has been increasingly recognized that science is rarely conducted by individual researchers but is being carried out by interdisciplinary teams of all sizes. Team science has been described as a collaborative effort to address scientific challenges that leverage the expertise and strengths of professionals trained in different fields.  The Team Science Seminar Series has been developed to assist researchers in addressing challenges to collaboration and collective team functioning, improving their ability to lead interdisciplinary teams, communicate and build trust with their collaborators, and identify the best ways to solve problems collaboratively. Early career faculty, pre- and post-docs, and professional research staff will benefit from attending this series.

The series will cover the following topics:
Understanding the value of team collaboration
Increasing self-awareness and leadership skills
Improving meeting management skills
Building an interdisciplinary research team
Developing mindset and feedback skills
Improving conflict management skills
Facilitating challenging situations
Increasing diversity, equity, and inclusion & recognizing assumptions and biases
Engaging communities in interdisciplinary research
Applying for collaborative or team science grants
In addition to helping researchers understand and build these team science competencies, series participants will also have the opportunity to network with other colleagues and to build practical skills to support future collaborations such as multi-PI grant submissions and team writing. A certificate of completion will be offered by ITHS to those who attend 8 or more of the 10 sessions.
Sign up now for the inaugural session! Future sessions will be linked below when they open for registration and also announced on the ITHS calendar of events and our newsletters.
| Session Title (subject to change) | Date | Event Page Link |
| --- | --- | --- |
| Introduction to the Team Science Seminar Series 2022-2023: Why is Team Science Important? | October 6, 2022 | Watch event video here |
| Building Self-Awareness and Leadership Traits for Team Effectiveness | November 3, 2022 | Watch event video here |
| Successful Meeting Management: Setting the Foundation | December 1, 2022 | Watch event video here |
| Building and Sustaining Your Interdisciplinary Research Team | January 5, 2023 | Watch event video here |
| Growth Mindset & Giving and Receiving Feedback | February 2, 2023 | Watch event video here |
| Leading with Intention: Foundational Skills for Handling Interpersonal Conflict | March 2, 2023 | Watch event video here |
| Creating Engagement: Facilitation from Chaos to Construct | April 6, 2023 | Watch event video here |
| What Does a Successful Multiple-PI/Collaborative Grant Application Look Like: An Academic Community Panel | April 20, 2023 | Watch event video here |
| Designing and Conducting Research for Health Equity | May 4, 2023 | Watch event video here |
| Engaging Communities in Interdisciplinary Research | June 1, 2023 | Register here |