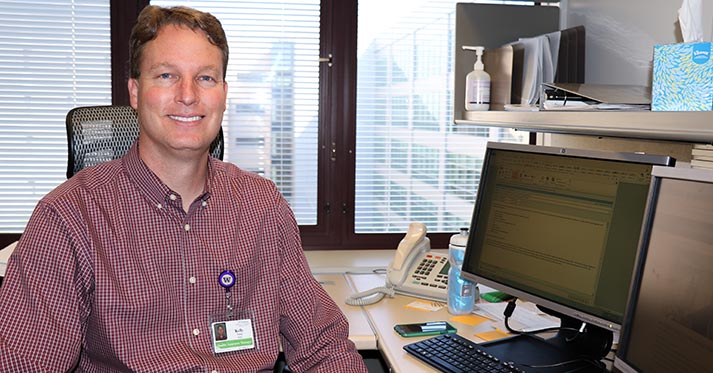 09 Aug

Meet Kelly Young, Quality Assurance Manager at the Gene and Cell Therapy Lab

Kelly Young recently joined the Gene and Cell Therapy Lab (GCTL) team at ITHS. In this question and answer piece, we sat down to learn more about quality assurance at the lab and Kelly Young as the manager.
Tell us about your role at ITHS, what is Quality Assurance?
The ITHS Gene and Cell Therapy Lab is one of only a few Good Manufacturing Practices (GMP) facilities available to translational researchers in our region (spanning across Washington, Wyoming, Alaska, Montana, and Idaho). GMP means that our facility meets the rigorous quality standards put in place by the Food and Drug Administration (FDA) for drug manufacturing. As Quality Assurance Manager, it is my job to ensure that our systems here are up-to-date, fully functional, and robust. This involves maintenance of our training programs, reviewing documentation and standard operating procedures, and conducting internal audits.
Additionally, I work closely with the lab manager to ensure all operations are conducted with the high level of excellence our clients expect. In order to authorize the release of the product, I need to review the batch records which detail the product manufacturing process with actual, step-by-step data. This process is made easier by the fact that the operation is already managed with a quality-oriented mindset.
How are your past experiences in commercial manufacturing different from working in an academic environment?
Over the past 20 years, I have worked in pharmaceutical, medical device and cellular therapy industries for a number of commercial manufacturing companies, including Sanofi, GE Healthcare, Dendreon, and Watson Pharmaceutical. In the commercial industry, the research side is driven primarily by bringing the product to market. In the academic setting, there seems to be more room to pursue projects for scientific advancement. All my experience has been making products that are regulated by the FDA. Since clinical trial therapies are also regulated by the FDA, the quality systems between my previous companies and the GCTL are very similar.
Whether industry or academic, working in quality assurance requires attention to detail and strict adherence to procedures. With a background in molecular and cellular biology, I am not sure exactly how I ended up in quality but it seems to suit me. I like it, and so I am sticking with it.
That being said, with our current operational model, the GCTL works with both university investigators and commercial entities to advance therapies through the preclinical and clinical trial process. Our ultimate goal is to make gene and cellular therapies available to patients.
What do you enjoy most about the work that you do?
I like making sure that things are done and done right. This helps to guarantee that the product is safe to be used by our patients. Ultimately, patients are the ones who are going to be affected by gene and cell therapy products so we have to make sure that everything is done properly.
How does quality assurance enhance the services offered by the GCTL?
The Gene and Cell Therapy Lab is set up for cell-based work by providing a facility that can support ex vivo manipulations of patient cells. Additionally, projects coming out of research labs might require some process development to help with scaling, especially in preparation for a clinical trial. All the services offered by the GCTL require regular maintenance to ensure that our systems and procedures are up to current standards. That is where quality assurance comes in.
Over the next year, I will continue to take a closer look at the quality systems we have in place to make sure that they have been brought up to industry standards and are accompanied by the necessary training and documentation. With a full-time Quality Assurance Manager, the Gene and Cell Therapy Lab now has the resources for the lab manager and staff to focus entirely on production while I take on each quality system to revise procedures, execute trainings, and keep our group informed of best practices. To do this, I regularly perform internal audits to make sure we maintain a compliant state.
With these types of assurances in place, the GCTL offers investigators a cGMP facility that can handle their process requirements. We have a 2,200 square foot clean room with four separate ISO class 7 suites and a fully trained scientific staff. All of this requires quality oversight to ensure that our facility and personnel continue to be compliant with FDA regulations.
What draws you to translational science?
Translational science is truly cutting edge research. There are some fascinating things going on here at the University of Washington, and I can see a lot of neat things coming through this lab. Currently we are working with an RNA based dendritic cell vaccine for the treatment of malignant gliomas. Malignant gliomas are the most common form of primary brain cancer and occur in 17,000 patients in the US each year. To treat this condition, the GCTL and the investigator are working on the patient specific vaccines in which we adapt a patient's own white blood cells to help fight the cancer. Since the product we create goes directly from our lab to a trial participant, it is essential to have quality assurances in place. Having projects like this makes me excited to come into work each day.
What other activities do you enjoy participating in?
I enjoy spending time with my family. Hiking and biking during the summer and snowshoeing during the winter are some of our favorite outdoor activities. I also enjoy coaching my kids' basketball teams.
How can researchers get in touch with you if they want to learn more about the GCTL services?
The best way to learn more about the lab is to complete the Contact Us/Request Services form on the Gene and Cell Therapy Lab page on ITHS.org.