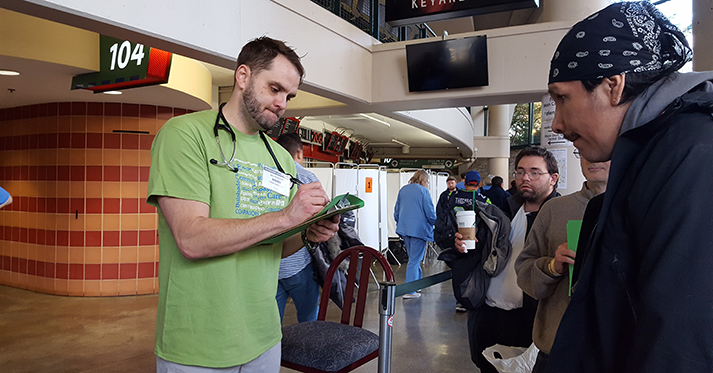 TL1 Trainee Kailyn Elliott welcomes patients to the Seattle/King County Clinic.
14 Nov

TL1 Trainee Helps Seattle/King County Clinic Fill a Healthcare Void

In the early hours of October 27, hundreds of people waited inside Fisher Pavilion at the Seattle Center. Some of them had been there since midnight, waiting for the tickets to be distributed and the doors of the KeyArena to be opened. Unlike the usual crowds who gather to see a sold-out concert or watch the Seattle Storm play, this crowd was in line to receive something much different: free medical, dental, and vision care at the third annual Seattle/King County Clinic.

The clinic is a four-day event where thousands of people have the opportunity to get teeth cleanings, dental fillings, and extractions, as well as eye exams, X-rays, PAP smears, mammograms, and general medical care – regardless of their age, income, and insurance status.

At 5:30 a.m. on the first day of the clinic, volunteers began to hand out tickets on a first-come, first-serve basis. Tickets for vision and dental services, which are the most in-demand, had run out by 9:55 a.m. Ninety minutes later, all medical tickets had been distributed as well.

Inside the KeyArena, volunteers moved about, welcoming patients, shuttling them from one area to the next, and, providing much-needed medical services. Luxury box suites were converted into private exam rooms complete with X-ray machines and lab equipment. Dozens of dentist exam chairs were arranged in rows on the arena floor. At Grill

(206), volunteered passed eyeglasses over a counter that usually serves popcorn and beer.

Kailyn Elliott, a UW medical student and ITHS TL1 Trainee, was one of the more than 3,000 people who volunteered at the clinic this year. He welcomed and directed patients at the check-in area, iced coffee in-hand. Like many volunteers, Elliott had been there since 3 a.m.

This year, his third year volunteering at the clinic, Elliott had decided he wanted to do something more. Something that could have an impact beyond the four days of the clinic.

So, in addition to working the check-in area, Elliott was running a pilot initiative. While he met with patients in KeyArena, his team of research assistants surveyed the waiting crowds. His goal was to gather high-quality, descriptive data about the people who visit the clinic, their motivations for going, and the impact of the clinic on patients' health and lives.

Elliott partnered with the ITHS Clinical Trials Mentoring Program to develop the project. The committee, a multidisciplinary team of experts with extensive clinical trials experience, offered recommendations on how to structure and deliver the survey to get the best results.

To gather the data, Elliott enlisted the help of Jenny Richards, a Senior Data Artist at Tableau Software, and Mary Beth Campbell, and 63 volunteer research assistants.

The research assistants surveyed patients as they waited at the Fisher Pavilion, asking questions about demographics, health literacy, and perceived barriers to healthcare.

One of Elliott's goals is to find out what motivates people to attend the Seattle/King County Clinic. He believes that the data will show a percentage of clinic patients actually have insurance—but they cannot afford their deductible or co-pay.

But the ultimate goal of the study is to drive healthcare policy, Elliott said. "The pilot project is going to hopefully inform a longitudinal study that will help inform policy makers as they design initiatives and decide what to implement," he added. "It's my argument that clinics like this are necessary and should be funded as an ongoing situation, as opposed to a charitable situation, because it has maximum impact. You get a lot done."

Elliott and his team are submitting abstracts at three major healthy policy conferences next year, where they'll be able to get their data in front of policymakers. "If our data is what we think it is, it could have a huge impact on public health policy and outlook. Lofty goals," Campbell said.

"The best are," Elliott replied.