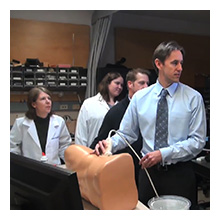 30 Jan

Former ITHS Grant Awardee's Ultrasound Device Begins Clinical Trials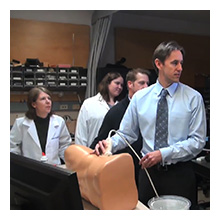 UW Today recently profiled the work of Dr. Mike Bailey and his project team on an ultrasound device that would allow doctors to actually move, rather than break up, kidney stones inside the body. The team has entered the clinical trial phase of their work, which was jumpstarted by two small pilot project grants and other support from the Institute of Translational Health Sciences (ITHS).
Dr. Bailey received an initial $10,000 grant from ITHS in 2010 for regulatory consulting related to human testing of the ultrasound device. He then received an additional $10,000 in 2012 to conduct a final safety analysis of the device. Dr. Bailey and his team have also worked with ITHS' Drug and Device Advisory Committee and Center for Biostatistics during the development of this device.
This research is currently supported by funding from the National Institutes of Health and the National Space Biomedical Research Institute, as well as support from the Center for Commercialization at the University of Washington.
To learn more about the work of Dr. Bailey and his team, please visit the UW Today article, UW Medicine News post, or their project website. Information about ITHS funding can be found by visiting www.iths.org/funding.
Photo (L-R) Engineer Barbrina Dunmire, Engineer Dr. Julianna Simon, Urologist Dr. Mathew Sorensen, and Principal Investigator Dr. Jonathan Harper. Not Pictured: Senior Principal Engineer Dr. Mike Bailey.