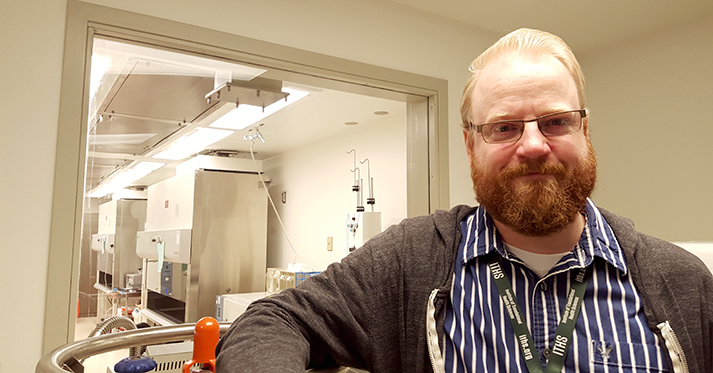 07 Jan

Meet Donovan Farris, ITHS Gene and Cell Therapy Lab Manager

Tell us about your role at ITHS.
I manage the Institute of Translational Health Science's Gene and Cell Therapy Lab and oversee the operations that happen within the facilities. That includes working with researchers in transferring their research protocols to our lab, training and managing lab staff, and ensuring the facility is meeting all regulatory requirements. I work with researchers or industry clients to make sure they are prepared to run clinical protocols within our Good Manufacturing Practices (GMP) facility.

Before coming to ITHS, you were at Dendreon for 14 years and held several different positions. What kind of work did you do there?
I started at Dendreon as a lab tech. I worked my way up to supervisor and then manager. It was a great experience. I was exposed to a variety of opportunities and it gave me a well-rounded background in how to move cell therapies through clinical trials to commercial application. The Gene and Cell Therapy Lab, here at the UW Medical Center, is roughly the same size as the clinical facility that we ran at Dendreon. This is a very familiar position for me. The later part of my years at Dendreon, I worked as the Manager of Global Operations.

What gets you excited to come into work every day?
Particularly here at ITHS, I am excited about some of the research that we are currently helping with in our lab. We are finishing up our pilot runs with the heart regenerative program out of Dr. Charles Murry's lab, and are preparing to start GMP production very soon.

The project is aimed at people who have had heart attacks. When someone has a heart attack, part of his or her heart actually gets damaged and dies. If the damage is severe enough it can lead to heart failure and death.

With stem cell technology that is being used, researchers are looking to inject stem cells directly into the damaged areas of the heart and regenerate the lost tissue. Patients could potentially regain heart function that was lost. The early published data looks very promising.

Beyond that, I am looking forward to working on many different types of cell therapies that will be coming through our lab. The Gene and Cell Therapy Lab is designed to handle multiple protocols simultaneously. Being able to be a part of new clinical trials and helping research move beyond the lab bench is a very exciting and fulfilling job.

What services does the Gene and Cell Therapy Lab offer to researchers?
The facility is set up for cell-based work, primarily providing a GMP lab that can support ex vivo manipulations of patient cells. That could be expansion of a cell line, purification or selection of certain cell types, or even genetic modifications to cells. Right now, we are generating a master cell bank of stem cells for Dr. Murry's heart regenerative project. In the past, some of the projects the facility has done are transfecting cells with plasmids, purifying stem cells from bone marrow, expanding T-cells, as well as banking cells and cryopreserving them for long-term storage. Also, we have a couple different cell sorting machines that can be used to select cells based on different cell markers.

Some of projects that are coming out of research labs might not be fully developed. They may need a little more process development or help in scaling up. New documentation will need to be created for each process, especially if they are heading into clinical trials. We can work with each project to identify those areas that need strengthening and then work side-by-side with them to implement those changes.

In addition, being part of the greater ITHS family, there is a variety of supporting functions that we can help plug into outside the lab. For example, ITHS can help with regulatory filings, grant writing, and study design.

What are your goals for the ITHS Gene and Cell Therapy Lab over the next year?
The first big goal is to get the Heart Regenerative Program off the ground and on their way to getting into clinical trials. Additionally, we'll be working on improving our lab, procedures, and practices. Being a Good Manufacturing Practices facility is about constant improvement. You can never rest with where you're at. In this business there are always changes to regulations, best practices and technology. It's my job to ensure we stay modern and compliant.

Beyond that, it is my personal goal to increase the awareness of our lab in the research community and industry. To have a successful and thriving lab, we need to be bringing in new projects at a regular pace.

From cancer immunology to breakthroughs in stem cell therapy and vaccine design, there have been a lot of significant developments in this field recently. What research developments get you most excited?
I am excited about anything to do with stem cells. Stem cell research is cutting-edge research, and it is turning the corner in terms of being more widely researched and used in clinical trials.

There are so many new studies being published every day. We're seeing potential therapies being developed for a vast number of diseases: Parkinson's, blindness, spinal cord damage, to a large variety of cancer treatments. There are a lot of unmet needs that can be met with this technology, and the world-wide scientific community is just getting started. It's a really exciting time in cell therapy research, and the ITHS Gene and Cell Therapy facility is uniquely positioned to help accelerate the process of getting these types of therapies to patients that need them.

How can researchers get in touch with you if they want to learn more about the lab?
The best way is to complete the Contact Us/Request Services form on the Gene and Cell Therapy Lab page on ITHS.org.